---
The Sunday Times "gods of business" by Team News and The Box Readers of The Sunday Times have named Sir Richard Branson the most-admired business leader over the past 50 years in a poll to commemorate half-a-century of the title's Business section. The Sunday Times Business promoted...
Homepride "Fred about the house" by McCann London The Homepride character Fred returns to the Premier Foods brand s advertising in a new campaign by McCann London. In the humourous TV ad, the help Fred offers a family s mum extends beyond the...
Samsung "right up our street" by Cheil UK Samsung has launched a 10 million ad campaign featuring Lily Allen for its new Galaxy Alpha smartphone. The spot was created by Cheil UK, is set to the singer s As Long As I ve...
Guinness "gates" by Quaker City Mercantile Guinness Europe s new TV spot is a subdued look at life in the company s St James s Gate brewery in Dublin. The ad, created by Quaker City Mercantile as a one-off project for...
Volkswagen "priorities" by Adam & Eve/DDB Adam Eve/DDB and the director James Rouse the team behind Marmite s "Love it. Hate it. Just don t forget it" reunite for a new TV ad for Volkswagen. The spot, which promotes the Tiguan...
Editor's pick
If there is one thing that's pretty much guaranteed about any TV show that features ad agencies, it's that they will be made to look like feckless, vainglorious fools.

Does the title's solution to monetising its readership while preserving open journalism stack up? Arif Durrani investigates.

The BBDO worldwide chief executive has long seemed destined for even greater things, Claire Beale writes. Yet, after ten years at the helm, Andrew Robertson still sounds like a man consumed by the job at hand.

To be or not to be a separate country? That is the big debate for the Scots, who will head to the polls in just under two months' time. As the battle to win votes heats up ahead of the 18 September referendum, we asked two senior creatives in Scotlan...
Features & Analysis

By exploiting OOH's digital potential, Andrew Morley aims to boost Clear Channel and the wider sector. By Arif Durrani
Steve Martin explains how a little alteration in a message could leverage powerful human motivations and offers some tips for marketers wanting to 'think small'.

Four- to 15-year-olds are shunning the TV set. What are the implications for agencies and broadcasters?

Some things in the media business we liked in the week up to 19 September, and one thing we didn't...

Arif Durrani and David Benady on the mooted decriminalisation of non-payment and what it could mean for TV.

The charitable view of Matt Atkinson s recent switch from chief marketing officer to the new role of chief creative officer at Tesco is that it signals a new approach to innovation at an organisation sorely in need of it. A more cynical one is that...

The new BBH worldwide CEO, Neil Munn, says its creative and cultural heritage will not be lost in the quest for growth as part of Publicis Groupe. By Jeremy Lee.

The advertising and fashion industries share many similarities, but what about the notion of creativity? Kate Magee talks to some of the sharpest dressers in adland about their own take on style.
While many believe it is an effective medium, online advertising remains plagued by fraud and low creative standards.

Some things in the media business we liked in the week up to 12 September, and one thing we didn't...

Native is a digital display success story and agencies are keen to cash in, but will the boom last, Louise Jack asks.

To pitch or not to pitch? That's the question that perpetually gets agencies hot and bothered.

Sky 1 s series sees the Irish radio and TV personality Baz Ashmawy (pictured) take his pensioner mother on a global quest to do dangerous activities, such as participate in a drug raid and a skydive. This is not an attempt by Ashmawy to kill his moth...
Maurice Lévy, the chief executive of Publicis Groupe, Michael Roth, the chief executive of Interpublic, and Rémi Babinet, the...
---
Additional Information
Trending on Campaign

Publicis Groupe chief executive Maurice Lévy is to step down in 2017 amid a management shake-up at the company.

Nissan has managed to produced an ad just seven minutes after Clarence House announced that William and Kate, the Duke and Duchess of Cambridge, were expecting their second child.

Campaign takes a look at the actor Jean Claude Van Damme's greatest ads.

Long copy is of course long dead. The adverts of yesteryear featuring hundreds of carefully crafted words are clearly no more.

Macmillan, the cancer charity, has defended itself from accusations of "hijacking" the ALS Association's ice bucket challenge craze, claiming it did not want to miss out on another social media phenomenon.
Promoted content

Campaign and MediaCo Outdoor challenged two digital leaders to take Manchester's CityLive screens to the max. This is what Team Sandoz and Team Hanås came up with for charities they love.

Shortlist July/August

Exterion and Campaign's competition to find the best bus creative will now end on the 17th September 2014.

As befits Bob Greenberg's evolutionary agency, R/GA London is eschewing established ways of working and traditional campaign timelines to enable clients to flourish in the connected age.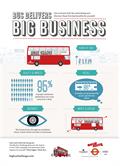 Enter The Big Bus Challenge 2014

Two teams, Team Hanas and Team Sandoz, are facing up to each other in the CityLive Challenge. Richard Blackburn, commercial director, MediaCo Outdoor, tells us why.