---
London 2012 Paralympics: the branded Games
By Richard Gillis, marketingmagazine.co.uk, Friday, 24 August 2012 11:00AM
The Paralympics, which starts on 29 August, extends to brands a range of opportunities - and challenges - that the Olympics could not.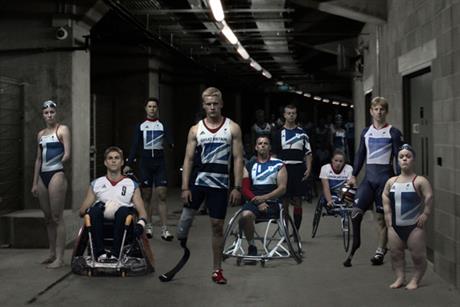 Ginger Rogers did everything Fred Astaire did, only backwards and in high heels.
This line from Hollywood's golden era echoes the traditional role of Paralympic sport, where the technical and physical brilliance of the athletes can go under-appreciated in relation to their Olympic counterparts.
That is unlikely to be the case with the London 2012 Paralympic Games, however. The British public wants this feel-good summer to continue, and the Paralympics is set to raise the profile of disabled sport to unprecedented levels.
As Marketing went to press, ticket sales have broken records and the Games looks set to sell out. Channel 4 promises innovative programming and a more overtly commercial platform for sponsors, compared with the BBC's Olympics coverage (see box, below right). Even Royal Mail, after some pressure, is to issue stamps for every ParalympicsGB gold medallist - despite the fact that the team at the London Games is expected to outperform the 42 golds won in Beijing.
Focus on sport
The catalyst for the recent growth is the joint agreement signed in 2001 by the International Olympic Committee (IOC) and its counterpart, the International Paralympic Committee (IPC). This obliges each Olympic host city to also host the Paralympic Games, thus forging an association with the most powerful sporting brand of all.
The key communications challenge for the Paralympics is to get media and sponsors to focus on the sport, says Jane Jones, the director of marketing and communications for ParalympicsGB, the counterpart to Team GB. 'We wrestle with this balance every day,' she adds. 'We know that many people will come to us for the back stories - the stories of redemption or of overcoming life-changing injuries. Often we've shied away from selling in stories of 7/7 survivors or Iraq War veterans, but now we're confident that the sport speaks for itself.'
Positive differentiation
Channel 4's much-admired trailer for the Games - 'Meet the superhumans' - strikes just the right tone, says Shaun Whatling, chief executive of sponsorship consultancy Redmandarin. 'The enormous relevance of the Paralympic metaphor lies in the struggle we each share to overcome our limitations.'

Whatling thinks Sainsbury's has taken a sensible approach in its sponsorship, weighting investment toward activation, fronted by David Beckham (see below). 'It has judged that most people wouldn't differentiate between an association with the Olympic and Paralympic Games; and if they did, the differentiation would be positive,' he adds.
Sainsbury's and BT are co-sponsors of Channel 4's coverage, the latter combining this with its Olympic partnership. The Paralympics offers valuable white space compared with the Olympics, where BT's deal came under ambush fire from Virgin Media's Usain Bolt campaign and Sky's enormous media presence and strength of association as sponsor of British Cycling.
Challenger brand
The two are patently different, says Suzi Williams, head of brand at BT. 'The Paralympic Games is a challenger brand when compared with the Olympics.'
The assets - the ambassadors, event sponsorships and ParalympicsGB rights - 'have not been exploited to the maximum; there is always more we can do', adds Williams. There are also cost advantages: the rights are cheaper than their Olympic equivalents.
BT's sponsorship rights highlight the contrast between the events in terms of branding. 'The package we have bought from Channel 4 includes various rights around the Games, plus Paralympic-themed idents around the event and the support programming, That Paralympic Show. These rights extend online and across all advertising including break bumpers, which we will share with Sainsbury's,' says Williams.
Rules remain
The presence of branding in the venues is the key difference with the Olympics from a marketing perspective. However, LOCOG's restrictions on ambush marketing, including the blackout on non-official advertising during Games time, still apply.
Lloyds TSB is another LOCOG partner that took a strategic decision to combine its Olympic and Paralympic activation work. 'We've never entertained the idea that we would treat the Paralympics separately,' says Lloyds TSB head of group sponsorship Stuart Beaver. 'It has been bound together with Olympics across all our activations, from National School Sports Week to the Olympic and Paralympic torch relays.'
As evidence of this strategy, he cites the bank's 'Local Heroes' campaign, through which Lloyds TSB has supported 1000 young athletes from across the country. Beaver says that 26 of the 46 Lloyds TSB Local Heroes who will have competed at London 2012 are Paralympians. In all, Lloyds Local Heroes make up 9% of the ParalympicsGB team.
Leap of faith
Before the Olympics, there were concerns among sponsors that even the most compelling human stories would not be enough to convince clients and customers to actually turn up and watch. The metaphor of the Paralympics, some feared, was stronger than the reality. Such talk has dissipated in the Olympic afterglow.
'Communications only get you so far,' says Beaver. 'People have to experience it live, but to get them there is a bit of a leap of faith. Internally, the focus has been on getting as many of our people to touch, feel and smell the Paralympics as possible, be it meeting Local Heroes, going to the Paralympic World Cup or becoming a Paralympic reporter.'
Channel 4's entry to the market is, of course, significant for sponsors, says Tim Crow, chief executive of Synergy Sponsorship. 'Leveraging an Olympic and Paralympic sponsorship is one of the toughest challenges in the sponsorship playbook, owing to the nature of the rights. Leveraging it in the UK, with – up to now – the non-commercial BBC as the only Olympic broadcaster, has made it even tougher.'
London 2012 is set to become the high watermark in the development of the Paralympic movement and will introduce a new type of national hero, whose appeal goes far beyond the usual clichés of sports marketing. The message they carry may yet prove the most important legacy of all.
SPONSOR'S VIEW
Jat Sahota, Head of sponsorship, Sainsbury's
The Paralympics-only advantage
There's been no road map for anyone, anywhere around Paralympic-only activation, which has allowed us to be more creative. We've found people are amazed not just at the athletic standard and endeavour of the Paralympians, but also the inevitable personal back story. That throws out some important value lessons for people that really touch home emotionally, in a way perhaps they don't always do in the Olympics.
The venues carry branding, which is an unusual difference between the Olympics and Paralympics. You will see us on a number of athlete bibs, on the field of play in some venues and on perimeter hoardings. It is not for us to champion or favour any sport or athlete, but to allow the British Paralympic Association (BPA) to make that decision.
Using Beckham's star profile
For many people the Paralympics are still relatively unfamiliar, so David Beckham is just an incredible draw for people to enter into a conversation. It had to be handled carefully, because it is not about David, it is about the Paralympians. He cares about and sees them for what they are – elite sportsmen and women.
He will certainly be with us into next year, along with Ellie Simmonds (Paralympian swimmer and Active Kids ambassador).
We've worked very closely with expert organisations in the area to help guide us through achieving a tone that is respectful and appropriate. The BPA has been incredibly helpful in helping us to understand how the disabled wish to be treated and use the language and tone that they deem appropriate, rather than what we deem appropriate.
A sales winner or CSR project?
Families regard our support of the Paralympics as a very good thing to do and an important evidence point for Sainsbury's being different from other supermarkets. There's the opportunity to sell products around such an event. It's not just about CSR, it's around the ability to engage our customers and colleagues and the communities we serve around this incredible one-off event happening in our country.
BROADCASTER'S VIEW
Dan Brooke, Marketing director, Channel 4
Why did Channel 4 want to broadcast the Paralympics?
We have a very clear public service remit passed down by Parliament. It is to reflect the cultural diversity of the UK, to reflect diverse opinion and to be innovative. The Paralympics is spot-on in terms of covering those objectives.
The UK is a very progressive country. LOCOG has done a fantastic job of running the whole thing and the BBC did a brilliant job with the Olympics. But this is the only thing on our plate. We have not had to prepare another massive sports event. We are going to cover the Games in an innovative and fresh way.
Is this an extension of the Big Brother era, or a handbrake turn away from it?
I would contest the suggestion that Big Brother was in some way not core to the Channel 4 brand. It promoted diversity and inclusion in an innovative way. It was the first time that disabled people, or someone with Tourette's Syndrome, for example, were so central to prime-time programming in the UK. We're proud that someone with Tourette's and a transsexual person won the public vote. Big Brother was hugely popular, particularly among young people, who tend not to watch as much TV.
What is the point of difference Channel 4 offers?
We can support the sponsors in their activation work. We have helped both BT and Sainsbury's to extend their partnership, by making short films and creating programming, such as That Paralympic Show. This has given them a new platform.
The talent we have selected is also very fresh, combining experienced sports broadcasters – Clare Balding, Jonathan Edwards, Ade Adepitan – with people we've auditioned from the street and trained. These are people with authentic voices who will add an exciting and new dimension to televised sport in this country.
Paralympic Games ticket sales
London 2012 2.5m*
Beijing 2008 1.8m
Athens 2004 850,000
Sydney 2000 1.2m
Atlanta 1996 500,000
*expected to be sold out; 2.2m had been sold by 17 August
This article was first published on marketingmagazine.co.uk
blog comments powered by

Disqus
---
Additional Information
The console is dead: The Socialisation of Gaming

The games console as we know it is dead. When Microsoft unveiled the Xbox One earlier this week, it was clear that this was more than a device that would enable you to play Call of Duty or FIFA – this was, in Microsoft's own words, "an all-in-one home entertainment system".