---
Costa Coffee: seemingly disembodied heads in a sea of coffee beans sing Kiss in this memorable ad.
By Craig Mawdsley, chief strategy officer, AMV BBDO, marketingmagazine.co.uk, Tuesday, 06 November 2012 11:34AM
The only time anyone has spoken to me on the Tube (without begging, encouraging me to repent, or ordering me to 'move down') involved coffee.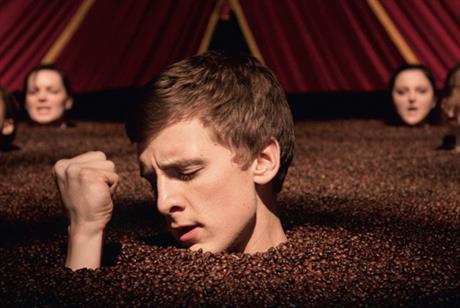 A pack of Nespresso capsules was sticking out of my bag - the only encouragement a fellow passenger needed to engage me in a detailed conversation about my preferred 'grand cru'.
Coffee lovers, erm, love coffee. It evokes passion, and that's just what's been missing from the mega coffee-shops - they tend to elevate the experience, rather than the product.
Many 'baristas' exemplify this - they are the mechanics of the food and drink world. Highly trained, but ultimately robotic. Yes, Starbucks, even a robot could ask my name.
Coffee shops need to recapture their humanity, and that's what Costa has done with its latest ad.
This is classically salient advertising. Catchy tune, quirky characters, an interesting setting and a heavy dose of surrealism. It has attracted half a million views on YouTube, testament to how memorable and engaging it is.
Kiss' (uncharacteristic) disco tune forms the backbone of the ad, and leaves the viewer in no doubt as to its message. So begins the entertainment: 76 very human (although seemingly bodiless) baristas serenade us about their passion for coffee.
Are they buried in beans or are they 'coffee heads'? No matter: either way, they're into the stuff, and that's what works with this ad.
In a market where the only point of difference is, arguably, the design of your cup, the people who serve it matter. The production is impressive, with so many baristas-cum-actors to synchronise.
This ad also builds on the '7/10 prefer Costa' campaign nicely, giving us a reason why people prefer the brand's coffee, but does passion equate to quality? I love coffee, but it doesn't mean I make a good cup.
It's sad that a category as non-utilitarian as coffee should be in any way comparable to supermarkets and financial-services aggregators. It's clear, however, that coffee has become another sector flooded with undifferentiated brands. I challenge you to remember who you bought your last coffee from in an unfamiliar railway station (probably Costa, actually).
This is a great ad for advertising - when nothing else differentiates your brand, your advertising certainly can. Just ask Comparethemarket.
The one place where real coffee innovation has happened recently, however, is with the arrival and elevation to near-religion of Nespresso. It's Nestle that has realised that coffee lovers care about the bean, too.
Brand strategy verdict: 8 out of 10
Brings personality to a category in dire need of it and cuts through brilliantly. However, is staff passion enough in a category where the product is the real hero?
Adwatch (Nov 7) Top 20 recall: Costa Coffee

Latest
Oct-31
Brand
Agency/TV Buyer
Recall
rank
%
1=
(–)
Ocean Spray
Arnold Worldwide/
MindShare
57
1=
-5
Gocompare.com
Dare/Carat
57
3
(–)
Sky
WCRS/MediaCom
50
4
(–)
Costa Coffee
Karmarama/
ZenithOptimedia
46
5=
(1=)
Argos
CHI&Partners/
Mindshare
39
5=
(–)
Comet
Havas Worldwide/
ZenithOptimedia
39
7
(–)
Heinz Soup
Abbott Mead
Vickers BBDO/
Vizeum
34
8
-6
Isme
Contagious
Content/Carat
33
9
(–)
Kellogg's
Mini Max
Leo Burnett/Carat
28
10
(–)
Iams
Saatchi & Saatchi
New York/Starcom
27
11
(–)
Ibis Hotels
BETC Paris/MPG
26
12
(–)
Kwik-Fit
Adam & Eve DDB/
MediaCom
25
13
(–)
John West
JWT Cheetham
Bell/Carat
24
14=
(–)
Guinness
Abbott Mead
Vickers BBDO/Carat
23
14=
(13=)
Asda
Saatchi & Saatchi/
Carat
23
14=
(–)
Farmfoods
In-house/In-house
23
17
(-)
Coke Zero
Publicis Conseil/
Vizeum
22
18=
-18
Reed.co.uk
Contagious
Content/
TCS Media
20
18=
(–)
Lynx
Victors & Spoils/
Mindshare
20
18=
(–)
Danone
Activia
RKCR Y&R/
MEC
20
This article was first published on marketingmagazine.co.uk
blog comments powered by

Disqus
---
Additional Information
All aboard Marissa Mayer's Yahoo acquisition train

Marissa Mayer certainly knew what was coming when Yahoo announced its $1.1bn (£723m / 857m euros) purchase of blogging platform Tumblr earlier this week. Rather than waiting for the critics to pounce, she issued a rather succinct, clear and highly quotable message proactively: "we promise not to screw it up".