---
Private View: Mick Mahoney and Michael Sugden
Campaign Work, Thursday, 25 April 2013 08:00AM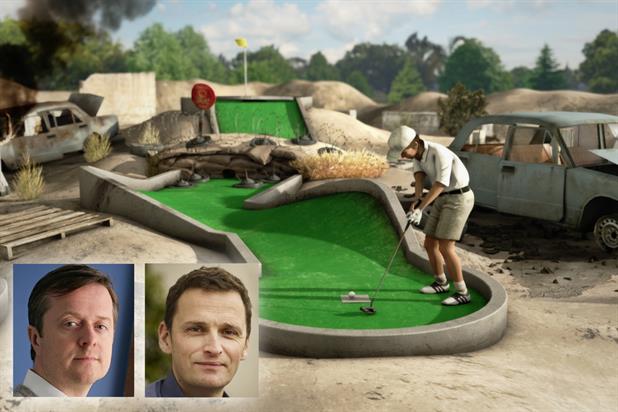 Creative
Mick Mahoney
Executive creative director,
Havas Worldwide London
Is there an awards season any more?
It's hard to think of a month when there aren't several festivals somewhere in the world that count towards one report or another.
This year, we've already seen British Arrows, Creative Circle, One Show Interactive and Art Directors Club, as well as numerous international shows I'd not heard of before. There are more categories than ads to enter into them.
As a young copywriter at Lowe, my creative director, Paul Weinberger, said: "Mick, I'm thinking of not entering the awards any more. How will that go down in the creative department?" (At the time, Lowe was pre-eminent. It would have been akin to the Olympics the year the US didn't take part.)
I replied: "It's a great idea. Except for the fact that everyone will leave." Awards were why creatives got pay rises, got to work on all the best briefs. But it now seems that awards have taken on an industry-wide significance.
Which perhaps accounts for the explosion. Last year, there appeared to be almost as many clients in Cannes as agency people.
Awards matter to everyone now. To an agency's new-business profile, to its ability to hire the best talent, to a network or holding company's perceived virility, to a client's reputation, to a brand's ability to command the agency's top people. And, as we've all seen in numerous IPA, Cannes and Gunn Report studies, the most-awarded work is very often the most successful for our client's business too.
So, with the industry seemingly appreciating the virtuous effect that award-winning work can have, why is there so little of it? Perhaps there could be an awards scheme for the answers.
Now, what of this week's submissions? Any golds?
Vodafone – beautifully shot by Fred Planchon, scored by the musical genius Ludovico Einaudi, built on a simple and restrained premise. But I find myself admiring the intent more than the content. Will get a deserved tickle in film craft.
EDF Energy – a dog makes his way home with the EDF poo riding him, to the sound of Fern Kinney's Together We Are Beautiful. The voiceover says: "Come home to Blue's low fixed prices."
I don't get it. What is that poo thing, anyway? Bound to be a category for it somewhere. Nothing springs to mind, though.
Danone – a busy little yoghurt ad packed full of information. And, like most ads packed with lots of information, I don't really remember much of it. "Oooh Danone" has to be one of the more penetrating sonic branding devices, so full marks to the agency for convincing the client to run a playful version. A cert in the "most improved sonic branding" category.
Paddy Power – it's noisy and daft. And, as always, Crispin Porter & Bogusky is having a go. Will clean up at the North Korean Art Directors Club.
Adidas – Chelsea's home kit for 2013/14. We were there, 19 May 2012. Third-generation Blue. My son, the fourth. So do we care about the fabric technology, the weave, the collar detailing that new kit ads normally bang on about? Do we bollocks. It's going to be blue and we're going to wear it. As a fan, brilliant. As a juror, I'm thinking, hmm: footballers as heroic deities covered in paint again? I hope it does well. It's a tough category.
Apparently, there's an awards scheme for awards schemes.
No, honestly.


Suit
Michael Sugden
Chief executive,
VCCP
Ding-dong! The witch is dead.
Britain's greatest leader since Churchill. Whatever your point of view, one good thing has happened in the past couple of weeks. In an era of consensus and political correctness, the nation has rediscovered the value of conviction and opinion. How refreshing. After a 20-year hiatus, are we allowed to grow some balls and say it how it is once more? I hope so. Conviction makes the world go round. Conviction makes for good advertising. So I can't help but think what Margaret Thatcher would have made of this week's fare in Private View.
For the launch of Chelsea FC's new kit by Adidas, we see John Terry and friends splattered in blue paint. "It's blue, what else matters?" we are told. Well, presumably, it would be good if it's iron-free and doesn't shrink in the wash. But that's a detail. Maggie was a true blue, so I imagine she would be most pleased with this spot. So am I. A simple idea, beautifully executed with superb sound design.
From Chelsea blue to Vodafone Red. Maggie had little time for emotional claptrap, so I doubt she would have had much time for this ad. And nor do I. When asked for "a John Lewis ad", most of us try our best to be remotely original. Alas, Adam & Eve… err, I mean Grey… responded with a pornographic copy of John Lewis' "always a woman" spot.

This could have had potential, if the porn in question wasn't my nan and grandad necking. Like the movies, remakes are never as good as the original, and I fear the Iron Lady's assessment would have been: "Weak. Feeble."
In EDF Energy's latest commercial, we see an orange turd hitching a ride on the back of a bassett hound. A promising start. And I believe Maggie would have been a fan. EDF's 2012 profits were up 8.7 per cent to £1.6 billion. That's a whopping £427 profit per household. A capitalist triumph. But that's the problem. When EDF is shafting Joe Public in a time of austerity, I'm not sure they are particularly inclined to listen to some crap about a price promise. Even if it is presented by a very well-animated orange curler.
Maggie had a love/hate thing going with dictators. Gaddafi got the handbag treatment; Pinochet was invited to tea. So there's little doubt Paddy Power's "dictator's hidey hole" would have got her attention. And it got mine. It's fun, well made and I know Paddy Power paid out six during the Masters. So I guess it's job done.
In 1989, Maggie pronounced: "I am extraordinarily patient, provided I get my own way in the end." Alas, someone at "Oooh, Danone" got their own way here and I don't think it was a creatively inclined person. The commercial asks: "How do we make new Danio so thick and tasty?" I don't know, but I am fairly sure I don't care. And for those who do, I imagine it involves some rather unnatural thickening agent. Another observation: the word "strain" should never be used in a food commercial… The voiceover concludes that Danio "hits the spot". It doesn't.
Love her. Hate her. But learn from her. The next time you face the choice between consensus or conviction, bear in mind that, in our industry, the greatest crime of all is going unnoticed. This is the one thing the Iron Lady could never be accused of.
This article was first published on Campaign Work
comments powered by

Disqus
---