---
Private View: Justin Tindall and John Treacy
Campaign Work, Thursday, 02 May 2013 08:00AM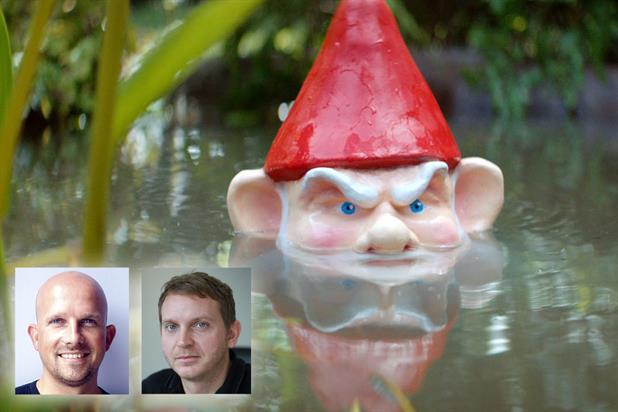 Creative
Justin Tindall
Executive creative director,
Leo Burnett
When counselled for his feelings on the wonders of digital photography, David Bailey responded: "It just means the world will be full of more shit pictures."
A damning indictment of the democratisation of creativity, maybe? An almost god-like understanding of the critical relationship between creativity and constraint, certainly.
It's why I love Twitter. Or, more specifically, the people who came up with Twitter. By placing a limit on the number of characters used in any one Tweet, they forced the great unwashed to self-edit.
If only all online content generators could be forced to do the same. That way, you, Bailey and I might get some of the life back that has been so cruelly stolen by the flabby, self-indulgent shite masquerading as "content" that is all too prevalent online.
Thankfully, Mr and Mrs Twitter have demonstrated this foresight again with Vine. A new(ish) video-sharing platform that limits uploads to no more than six seconds in length.
"Major advertisers have been quick to jump on board!" the blogs scream. I'm not sure that Kids Company is a major advertiser, but it has certainly been quick to jump on board with a series of looped six-second films dramatising the plight of various disadvantaged children, accompanied by the line: "Make it stop."
As an idea, it's very similar to a Barnardo's campaign ("break the cycle"). If only the team had focused their efforts on making a set of great six-second films rather than trying to exploit the fact that Vine films are looped. They might have come up with something as new and original as the Vine platform itself.
New and original are not words that come to mind when looking at the poster for Bonds Australian lingerie. Unless, that is, you are comparing this poster with its much-lauded predecessor.  "Hello boys" becomes "G'day boys". Really boys?
A little bit of Twitter discipline wouldn't have gone amiss in the new Ikea ad. At two minutes, it's way too long. The idea that disgruntled garden gnomes are fighting back against the arrival of this year's tasteful outdoor furniture range is landed very quickly. I can only imagine that the other 90 seconds is there to ensure that the entire product range gets its 15 minutes in the sun.
From the sun to The Sunday Times (sorry) and its annual Rich List campaign. Another year, another set of graphs. To be fair, it does have the added layer of "celebrating 25 years" with which to contend. But, on a graph measuring the quality of this advertising over the years, I'm not sure that this would be up there with 4 Simon Cowells = 1 Andrew Lloyd Webber.
And so, finally, we come to Diet Coke. In the spirit of self-editing, I'll keep it brief. Taylor Swift drinks some pop and then writes some pap… I mean pop.
Sorry I couldn't be more positive. Last time I did Private View, I got hate mail. A bit extreme, in my opinion, but if you feel compelled, try to make it 140 characters or fewer.


Creative
John Treacy
Executive creative director,
Elvis
Over the years of reading Private View, I've seen a few different approaches. There's the "have a theme" approach, and the "ship it out to your mum/department/cleaning lady" routine was very popular for a while. But my favourite has always been the "just write what you really think without being too much of an arse". I think I'll plump for that.
First up is a campaign using Vine for Kids Company. If Facebook is where people talk to brands, then Twitter is where people are talking about brands, right?
The problem is, I'm just not sure they'll be doing much talking off the back of this idea. The six-second Vine clips show children in various states of distress with a "Make it stop" call to action at the end. I applaud the effort to innovate, but it feels like an old creative strategy in a new medium. Also, six seconds just doesn't seem long enough to do a serious issue justice. Having said that, I still donated – let's hope others follow suit.
Next up is an ad for Ikea's new range of psychotic gnomes. Those crazy Swedes, eh? If I buy the whole set, will I get some free meatballs? I love those meatballs – they nearly make the trip to hell on the Purley Way worth it. I think there may have been some plastic garden chairs in there somewhere as well.
It might not quite scale the heights of "You'll Always Find Me In The Kitchen At Parties" but it's all good knockabout fun in a Technicolor Doctor Who sort of way.
To wash down those meatballs, what better than a Diet Coke? This execution features the American pop starlet Taylor Swift writing the lyrics to her song 22 as she chugs from a can.
Ac­cording to her Twitter feed, she is: "Happy. Free. Confused. Lonely. All at the same time." Which is sort of how I feel about this ad. Probably because I'm about 22 years older than its target audience.
To finish up, we have a couple of good old-fashioned posters. The first one is for the Australian underwear brand Bonds and is a parody of the famous Wonderbra "hello boys" ad done by the same agency. The original one stopped traffic, but I don't think this one will. To have real impact, it feels as though it should have been done 20 minutes after the original, not nearly 20 years.
Last, but not least, we've got the new campaign for The Sunday Times Rich List. Big shoes to fill here as the previous campaign featured one of the best posters of recent times. So have they pulled it off? Nearly. I like them, but they don't tickle me in the way that a Shrek-sized Wayne Rooney getting ticked off by a tiny Alex Ferguson ever will, but few things do.
Except maybe a set of psychotic garden gnomes.
This article was first published on Campaign Work
comments powered by

Disqus
---