---
Private View: Ben Walker and Lisa Thomas
Campaign Work, Thursday, 23 May 2013 08:00AM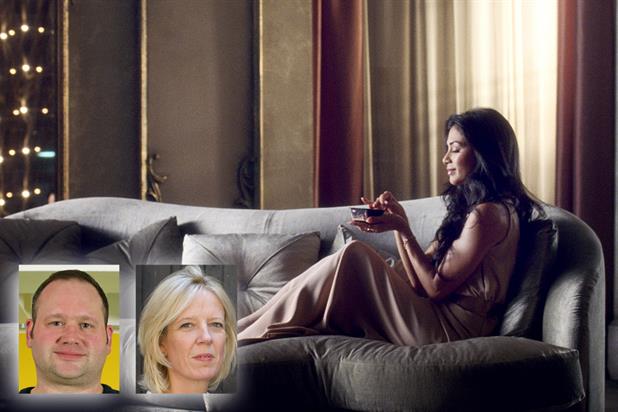 Creative
Ben Walker
Executive creative director, Crispin Porter & Bogusky London
Big fan of Müller Light, me. Fantastic when you add loads of Brazil and macadamia nuts, and the calorie count stays the same, I'm told. I pile them up in the fridge and I never throw an out-of-date one away.
I've eaten toffee Müller Light that's two-and-a-half months old. I'm still standing. It separates a bit, granted, but mix it up and it returns to something like its former consistency. And it tastes exactly the same. Magic. There's an ad in that, I reckon. Have it on me and stop making this nonsense. Nicole Scherzinger calls it "Müllerlicious". I call it wallpaper. Come to think of it, a two-and-a-half-month-old Müller Light is the perfect consistency, should you plan to hang this ad in your hallway.
Tiësto and a model called Poppy have been paid lots of money to star in a mini film for Acer computers. Their contract stipulated that they never had to be shown actually using one, so there is a dorky character who uses it instead and saves the day at some rave. The whole thing feels inauthentic and I'm not sure what to make of Acer, except that it must be doing all right to spunk tons of cash on this lot. It's OK now, guys, the ad's over. You can get the MacBooks back out.
McDonald's has a new burger out that is like a taste of America. The premise is that, if you eat one in England, it will magically transport some facet of the US into your scenario. Cue vignettes where a London black-cab driver is surrounded by yellow cabs, cricketers are cheered on by cheerleaders, a Cub Scout convention is shot up in a feud between Bloods and Crips, and a holiday caravan in Bognor Regis busily knocks out crystal meth. I made the last two up to try to spice things up a little.
The Microsoft ad has a voiceover wittering on while I'm trying to read the supers. Doing two things at once like listening and reading is a car crash scenario when I'm involved, so I get to the end absolutely none the wiser as to what has gone on. In the interests of duty, I play it again. It doesn't help. I pat my head with one hand while rubbing my tummy with the other to get into training, then watch the ad again. It's all to no avail.
Robinsons is a goody, though. Beautifully observed, genuinely touching in parts. Great product shot – the antithesis of how Nicole sumptuously devours her Müller before urgently hocking it into the nearest spittoon the moment the director shouts "cut". It stuck with me and I remembered it because it was honest. One quibble – and it is rather a major one. What on earth has the idea got to do with Robinsons? If it had been the ad for McDonald's, I would have "got it" much more. But I'm just wondering if it really matters that much. Right now, it's lean times and anyone who is brave enough to do something that grabs the attention momentarily and makes you feel something has achieved a major triumph. So, for that alone, it gets top marks.
Suit
Lisa Thomas
Chief executive, M&C Saatchi Group
Having just emerged from a navel-gazing session at our worldwide creative meeting in Milan, it was refreshing to look out at the world again and see what had been going on in our absence.
To me, the best advertising has always started with a simple but powerful insight that really gets to the heart of why we think/feel/do. Apple became the most powerful brand in the world based on a deep understanding that people like to feel in control of technology, while Nike's swoosh dominated global sport after it understood people want to be told to "just do it".
So, to Robinsons. It's a good old "slice of life" narrative, with two boys playing outside in the sun. However, the scene jars when we realise at the end that one of the boys is actually the other's father. "It's good to be a dad. It's better to be a friend" is the endline or insight. The trouble is, judging by the dads I know – some of whom watched this ad with me – being a dad is what counts above everything. Insight only works if it rings true.
Next up is an ad that's really more of a short film, at nearly three minutes in length. This video for Acer is the unintentionally tragic and lagging tale of a computer nerd trying to be cool, starring Tiësto (famous or fictional, I'm not absolutely sure). Acer is apparently "redefining the computer" – but why that means it must become the must-have accessory for the dorky assistants of popular DJs is beyond me, as is who the target audience is meant to be. As for the key insight – it seems to have got bored even before I did and disappeared altogether.
"Müllerlicious" is really all you need to know about Müller's ad. I know that registering your brand name in the vernacular is the ultimate demonstration of category dominance (Google, Skype, Hoover and so on), but I would happily bet my children's monthly iTunes spend on this one not working. The ad has gathered all the clichés of the luxurious treat category and shoehorned them into 30 utterly generic, insight-free seconds, telling us that Müller now does indulgent. Subtle? No, not really.
Microsoft's new ad is about trust and I salivated at the prospect of this rich and complex topic, full of universal truths and emotional insights. But, sadly, they seem to have been carefully filtered out of this ad, along with any human connection. Thinking trust is not enough; you need to feel it – but, as far as I can tell, Microsoft is a brand that we don't feel very much for. Bill Gates is an incredibly smart chap, and we can't breathe without using his software, but we don't respond emotionally to the brand. It can cram an ad with babies, children and mother/daughter relationships as much as it likes but, at the end of the 30 seconds, I'm wondering if the kettle has boiled.
And so to McDonald's. There was a time when its communication lacked everything except meat and cheese. Not so these days. Its strength has enabled it to endure abuse and setbacks that would have killed most brands. Much of this has been down to communications, held together by the irritatingly catchy (but uplifting) strapline.
This Louisiana barbecue execution, at its heart, is an old insight about us and the Americans. Connected by a common language, we're so similar yet so different. The ad gives us gently amusing juxtapositions of cricket, cheerleaders, fishing and yellow taxis. I'm lovin' it.
This article was first published on Campaign Work
comments powered by

Disqus
---