---
Andy Bird and Damon Collins
Campaign Work, Thursday, 06 June 2013 08:00AM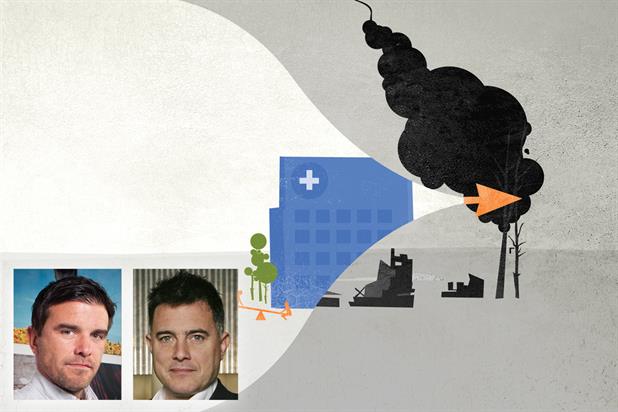 Creative
Andy Bird
Executive creative director,
Publicis London
One weekend back in the mid-90s, I found myself hosting a cultural exchange experiment in Newcastle with some colleagues from Bartle Bogle Hegarty and some of my mates from home.
On the Saturday evening, we retired to the world-famous floating nightclub the Tuxedo Princess, where we spotted a guy above us on the Tyne Bridge threatening to chuck himself off. Now, you would have thought the people on deck would be concerned but, no, the majority of the revellers were uninterested and barely looked up from their alcopops. Indeed, one woman shouted up at the unfortunate chap the comforting words: "Gan on, jump, ya soft b*****d."
One of my work chums was horrified, felt brave and leaned across and said: "I say, that's not really on, you know." Only for the woman to spin round on her stilettos, look our man up and down with disdain and deliver the crushing line: "Heeya, if I wanted to hear an arsehole, I'd fart." I don't think my former colleague has yet recovered.
Cut to 16 years later and Polycell's new ad also features a talking arsehole – a CGI'd arse, no less (Boris Johnson must have been busy). The bum wears his jeans back to front and instructs his fully formed son how to fill an unsightly crack in a wall using the new Polycell spray. It's a strange film, a touch gross and with little charm or wit but, I guess, like my pal's night in Newcastle, you won't forget it in a hurry. Maybe that was the intention.
Next, we follow Arthur the Galápagos turtle lend Channel 4 a helping flipper to promote its upcoming dating season. Arthur lost his girlfriend of 137 years, Ethel, and is now ready to get back in the saddle.
He tries speed-dating, goes raving, sticks his turtle head through a glory hole (that's not a euphemism, by the way) and even has a go at fisting. It's only when he meets a two-legged bulldog in a wheelchair that Arthur finds his true love. Sure, it's OTT but, unlike Polycell, is very funny. Another great piece of work from Channel 4 after the Grand National spot a couple of months ago.
As a sucker for lovely animation, I enjoyed Google's new film espousing the virtues of the simple cursor. It looks great and the narrative jogs along nicely, reminding you of all the wonderful things t'internet can do. My only small gripe is that the invitation to join the Global Impact Challenge – or, come to that, what it even is – gets a wee bit lost in it all.
Canon's new ad tells us how it is going to help you "power your next step". It's like a pitch film on steroids that feels a bit corporate and I'm not sure whether I'm meant to believe the actors are real punters or not.
Anyway, I think I'll "power my next step" over to the Army's new film. Really, I should give it a stinking review, seeing as my agency had the business previously. But I can't because: a) that would be churlish; b) it's the best of this week's bunch. It tells the story of a new recruit's life in the Army from boot level. It's brilliantly observed, edge-of-the-seat stuff, really well-shot and reminds us all what an outstanding job the Army does. "Step up" also is a great call to action, nearly as good as "start thinking soldier"(arf). The bigger question is whether the Army actually can recruit anyone with all the current cutbacks, but that's another story.
Creative
Damon Collins
Founder, Joint
I'm very excited. Our little company celebrated its first birthday this week. Not that you care. And there's no reason why you should.
There are plenty of things going on in your world that are infinitely more important to you than what's going on in mine or anyone else's.
Believing other people actually give a toss about you or your issues is a mistake many people make. And many brands. They talk about stuff they want people to know about them, rather than things people really care about.
Everyone has problems. Some of which they would pay good money to solve. And brands that position themselves as an answer to those problems stand a decent chance of making themselves relevant to their audiences.
Channel 4 knows the people who use its product. And what problem those people have that needs solving: "I'm bored. I want to be entertained." The trail for the "mating season" successfully communicates its product benefit. Dating shows are all the rage, whether they're filmed in a London airport (like, ahem, the one a certain start-up made on Valentine's Day) or just the more conventional type. And a giant tortoise visiting an S&M club should give viewers a good steer as to Channel 4's slant on the genre.
The problem Polycell is solving for people couldn't be more clear. The product demo in this ad works a treat. It makes the spray seem like an incredibly simple solution. I hope, for the client's sake, viewers stop there and don't try to analyse the creative execution too deeply. If they do, they might question whether advice from someone who "talks out of their arse" is actually the best counsel. I say talks out of their arse – the character in the ad actually appears to be talking out of his vagina, but I'm yet to find the well-known phrase or saying that refers to.
There are some people in the world who really care about other people. Google has created a competition that this group should be excited about: the Global Impact Challenge. It sounds like a fantastic initiative: giving not-for-profit organisations £500,000 each to help solve the world's problems. The ad invites people to vote for the projects that should benefit. It puts its message across by making the point that a computer's cursor is a powerful thing. Not news that will surprise anyone who has ever used a computer, but it's nicely made nonetheless.
There's a subset of the above audience who feel such a sense of duty that they are willing to risk their lives to help others. Those in the Army deserve respect for the shit they go through abroad and, as the attack in Woolwich demonstrates, closer to home. This neatly made commercial, filmed at – if such a thing exists – "foot's eye view", takes us through the journey a soldier can expect. It may not convert new audiences like some of the past campaigns did but, for anyone currently contemplating the job, it gives them a taster of what they might expect.
There is one uber-problem that faces anyone consuming any form of communication. It is that 99 per cent of ads the world is exposed to are crap. And, quite frankly, Canon isn't helping. For a company that makes such wonderful products, this commercial is inexcusable. It's a shame the company behind the devices responsible for the majority of the web's high-quality video content can't create just a few seconds of their own.
Anyway, must dash. We've got a bank to launch. Not that you give a monkey's.
This article was first published on Campaign Work
comments powered by

Disqus
---