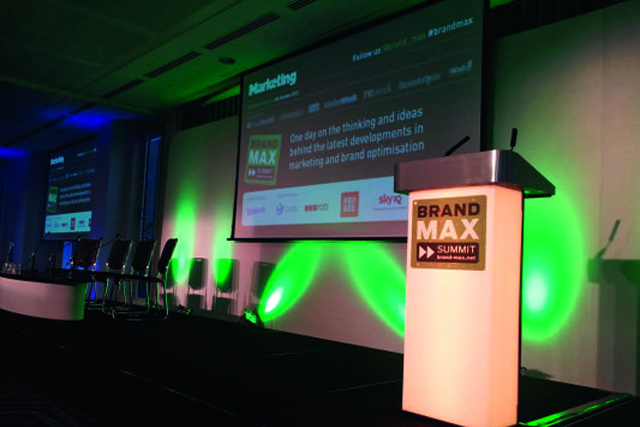 The conference will focus on how marketers can optimise ROI, and make every aspect of the marketing mix work harder and count for more.
BrandMAX is the only conference that offers a rounded view on the marketing industry. Here, a selection of our 2013 speakers share their thoughts on how the marketing function is evolving and reveal snapshots of what they will be contributing to debates, keynote speeches, interactive sessions and panels throughout the event.
How do you define marketing?
Meaghan Fitzgerald For me, marketing is the process of communicating solutions to problems. The most effective marketing educates and inspires the recipients of the message, helping them discover a way to meet a need or fulfil a desire in their own lives.
Dan Robb It is a lot of things but, ultimately, I believe it's all about making sure your target customers perceive your brand the way you want them to perceive it.
Malcolm Bell It is not only about communicating a message to a specific consumer base, it's about engagement. In an age when consumers see 5000 marketing messages a day, marketing needs to be a two-way process in order to be effective and generate cut- through. Brands need to listen and conduct a two-way conversation with consumers in order to build trust and loyalty, especially in the age of social media. It's a communications revolution.
Nick Adderley Quoting Philip Kotler: "Marketing is the science and art of exploring, creating, and delivering value to satisfy the needs of a target market at a profit."
What marketing trend is dominating your job at the moment?
MF The overlap between marketing and operations or IT departments is a really interesting and prevalent trend. Marketing executives are increasingly involved in product management or development and need to have the technical understanding to contribute to that side of the business. Additionally, product roles need to have a greater understanding of customers and let customers and product marketing help drive their development. This CMO/CIO overlap is becoming more pronounced, and both marketing and product roles need to be ready for this change.
DR Two-way customer engagement. It's a little obvious, I know, but we are constantly looking for ways to positively engage with our customers – past, present and future. I am pleased that the days of blanket "one-size- fits-all" communications seem to be over now.
MB Social media has always formed the crux of our marketing activity at Zaggora. When we started the company in 2011 selling HotPants, we simply did not have the budget to activate aggressive ATL campaigns, so we reached out to bloggers via Twitter to generate reviews of our product. We sold more than 100,000 pairs of HotPants in 10 weeks. To this day, Facebook and Twitter remain our most effective means of marketing to consumers, with Zaggora having 450,000 "fans" and 3000 followers respectively.
NA The speed consumers are going digitally mobile.
If you had three wishes for your brand, how many would you use and what would they be?
MF 23snaps is a start-up and, despite our explosive growth in our first year, many of the wishes we
have for our brand relate to brand awareness and overall presence. My top wishes today for our brand are to see 23snaps become a household name and the site become known as an expert and trusted source of information about online safety and security for families.
DR I only ever have one wish when it comes to marketing, and that is for our target customers to understand and appreciate our brand's chosen customer value proposition. Everything else should fall into place after that.
MB I would like to see us selling in every country (we are currently in 126), become a household name by 2015 in the UK and the US, and to be known for making people's lives healthier, happier and [in reference to its heat-activated fitnesswear, HotPants] hotter!
NA To continue to improve the airport everyday and ensure that passengers have a better experience of Heathrow through the service and care we provide.
If you had one recommendation for those looking to maximise the level of engagement with their brand, what would it be?
MF Find the part of your product or company that evokes an emotion in your customers and focus on building that emotional connection. 23snaps has grown so quickly and has such loyal and engaged fans because people emotionally connect with the photos of children in their family, and they associate those positive feelings with our company.
We have made it easy for users to save, share and relive special moments with the children in their lives and have avoided overloading the service with additional features or designs. We discovered what it was that made people feel genuine love while using our product, and all of our marketing messaging, product development and product marketing is aimed at strengthening that connection.
DR While having a single person or agency responsible for your social-media channels is necessary, don't be afraid to empower all willing staff to be your social-media advocates. Provide them with training
on social-media tools (if required), make sure everyone understands the personality traits of your brand and then let them engage directly with customers. If your brand is going for positive engagement, there is no better way to achieve this than by utilising the individuals who are already working for your brand.
MB Listen to your consumers and act on their recommendations. I make a point of reading Facebook comments and customer emails in my own time and I also email customers randomly to ask them about their experience of using Zaggora.com. There is no point in second-guessing what your customers want when it is easy to have a direct dialogue with them.
---
BrandMAX 2013 is supported by Mindshare, Red Bee Media and Sky IQ