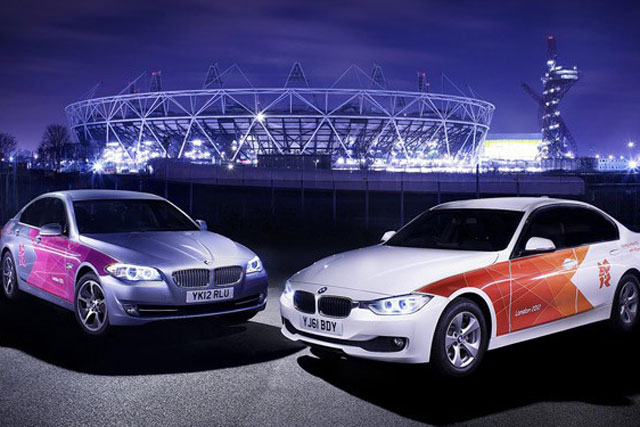 Speaking to Marketing at the launch of its BMW Art Car Collection, just one of a number of initiatives the company has activated ahead of London 2012, a senior spokesman confirmed the focus was not on extending its association.
The car giant paid an estimated £50m to be among the top sponsors of 2012, and this week pledged to invest a further £250m into the UK to increase production of the Mini at factories in Oxford, Birmingham and Swindon over the next three years.
But when asked if the company was looking to continue its top level involvement with the Olympic Games, Graham Biggs, corporate communications director at BMW, made his feelings clear.
"No. It's a one-off, but it [the sponsorship] is a long term commitment to sport," he said. "BMW has been supporting sport for many years, motor sport but also golf and we've just announced our sponsorship of the RFU rugby from September. Sport's very important to us."
Asked if he could categorically rule out becoming a top tier sponsor at the next Olympics in Brazil, Biggs said: "I think it's unlikely, but there have been some discussions with the Rio guys. But it is a big investment… We did provide cars at the Atlanta Games, quite a while ago [1996], but we've never been involved at this level before."
BMW was relatively late to the top table for London 2012, only being named as the seventh top tier sponsor after Locog chief executiuve Paul Deighton had lowered expectations and warned, "There is high probability that we are done on tier one sponsorships".

The presence of the car manufacturer was later hailed as "vital" from an operational point of view, by London 2012 chairman Lord Coe. Last month, Lord Coe heaped further praise on all the sponsors of London 2012, who in addition to more than £750 million investment, were credited with legacy programmes already directly responsible for about three quarters of a million more kids playing sport, and six and a half million people now involved in what he termed "life-enhancing activities".

As the official car supplier to the Games, BMW assumed the role held by fellow German manufacturer Volkswagen for the Beijing Olympics in 2008. The deal has enabled both BMW and its Mini marque to leverage the London 2012 logo.
The BMW Art Collection is the latest programme, and will take over a landmark car park in Shoreditch for two weeks from 21 July to 4 August. The exhibition curated by the ICA marks the first time the 35-year-old collection of cars transformed by leading artists, including Alexander Calder, Frank Stella, Andy Warhol, Jeff Koons and David Hockney, have been on display in the UK.
In addition to providing a fleet of more than 4,000 cars, Biggs said BMW is set to be "active in all sorts of ways" during London 2012, including "towing horse boxes at Greenwich Park, pulling boats out of the water at Weymouth, supporting the medical and fire safety teams, and also transporting Gold medallists around the Olympic park".
Prior to announcing its London sponsorship, BMW had endured negative coverage in the media having announced plans to cut 850 job from their Mini car plant near Oxford. BMW's marketing director, Richard Hudson, told Haymarket's Brand Max event last year that the company was using the Olympics to "boost our brand image, inspire employees and boost our business and corporate reputation".
Hudson noted at the time: "You can get drunk on the Olympics and spend a lot of money but you have to be focused."
* Nissan has already taken the top tier slot as the official car sponsor for Rio 2016, so any conversation BMW is still having with the organisers would be concerning any other form of involvement.
Follow Arif Durrani on Twitter @DurraniMix