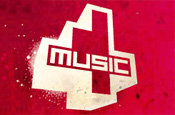 The channel, previously called The Hits, launched at 7pm with 193,000 viewers, outperforming ITV2, MTV One and Dave at that time.

On the night, 4Music averaged a 0.7% share of individuals and 1.2% share of 16 to 34-year-old viewers.

For the week ending 3 August, The Hits pulled in a smaller 0.4% share.

The rebranded music channel opened with Davina McCall and Steve Jones presenting Davina & Steve's 20 Big Ones, followed by the world premiere of Kylie Minogue's recent live show from the O2 Arena.

On Saturday, 4Music ran exclusive live coverage of the 2008 V Festival, reporting a 0.4% share on Saturday, and peaking with an audience of 92,000 viewers at 9.30pm, as performances from Stereophonics and Jamie T were screened. In comparison, TMF managed just 49,000 in the same slot.

On Sunday, 4Music pulled in a 0.3% share of viewers, peaking with 143,000 viewers at 6pm during One Republic's set.

4Music attracted an average 1% share of 16 to 34-year-olds during its opening three days, outperforming TMF and MTV One, which recorded 16 to 34-year-old shares of 0.62% and 0.26% respectively.

David Young, programming director for Box Television, said: "Its only the start, but we're delighted to see not only a stellar performance from the new channel, but that with Box TV's portfolio of channels scoring 42% of music market share against Viacom's 36%, 4music has also helped us open up a clear lead as the UK's number one music TV group".