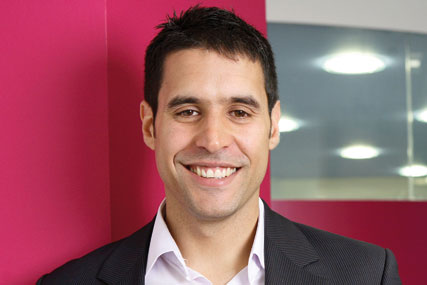 MW: Why has the retargeting industry sprung up?
MS: The e-commerce industry has grown extremely rapidly in the UK, but the average e-tail website loses up to 95% of its traffic without those users making a purchase. Retargeting businesses like Criteo enable e-commerce companies to re-engage with website visitors who have left their site via retargeted personalised display ads. These ads are generated in real-time, displaying recommendations for items to purchase based on each user's product viewing history.
MW: How long does this process take?
MS: We are talking milliseconds. The core part of our investment in technology has been making sure we can deliver real-time ads based on real-time data on our advertisers' websites, right down to understanding products that are out of stock or products that our consumers have already bought.
MW: How many consumers does Criteo track each month?
MS: The latest ComScore figures showed that we reach about 20 million UK consumers each month. We work with the top 100 ComScore publishers in the UK and more than 800 of the top e-commerce companies worldwide.
MW: Which sectors are the biggest users of retargeting?
MS: Retail is our biggest sector - we work with Boden, Comet and Office - but retargeting also works well for classified and travel advertising. Because the travel industry has moved online very quickly, the ability to influence those guys with relevant display advertising that is very time-sensitive is incredibly powerful. We are looking at expanding our business through further sectors such as finance.
MW: What is your business model?
MS: Criteo's service is based on a pay-per-click model, so clients only pay when potential customers have interacted with a banner and clicked through to their site. We also track clients' cost-per-sale or cost-per-acquisition targets to make sure the ads are well-received and relevant to the users. Without this accountability, we would not be able to gauge the true return on investment for our clients.
MW: What is the typical uplift in sales conversions?
MS: Our click-through rates range from 0.65% to 2.0%, compared to the standard online display average of about 0.1%. So the click-through rates are six or seven times higher in general, and we see a similar increase in the number of people who go through to the e-commerce site, complete a transaction and are influenced to purchase more products and spend more than the average basket size.
MW: How important is the creative treatment?
MS: We have invested very heavily in the creative platform, so much so that we have built an API that allows creative agencies or media agencies to take our code and build the banners for a personalised retargeting campaign via Criteo. This gives agencies a lot more control - and means you can have an infinite number of creative treatments - but those banners will still confirm to strict brand guidelines.
MW: What is your position on privacy issues?
MS: When we launched the business we decided that since our banners are so personal to the individual consumer, it would be appropriate to have an icon that allows the consumer to see how we collected the data on the products they browsed. Users have the ability to opt out from either that advertiser or from the whole service, but the opt-out rates have been insignificant, because we have been transparent and given the consumers the control they need. All the information we hold is non-identifiable - it is cookie-based data on browsing behaviour.
MW: Do you think e-tail will become one of the main ways consumers spend their money?
MS: Yes - this Christmas will be huge. People are more experienced online shoppers, so their confidence buying online will naturally grow every year. In line with that, e-commerce merchants have improved their service and multichannel retailers have done a very good job of matching the collection in store to their online proposition. So I think the e-tail trend will continue, and the multichannel approach will be an important part of that.