---
Fallon named Campaign's Agency of the Year
By Staff, campaignlive.co.uk, Thursday, 13 December 2007 08:30AM
Fallon ended 2006 in the rudest of health, buoyant on the combined success of its first Agency of the Year title; a year spent at the top, or thereabouts, of the new-business league table; and proud ownership of the best work in London.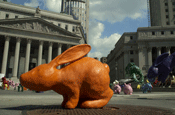 Success and confidence are linked in this business, so it wasn't long before the nine-year-old agency reaped the rewards of a positive feedback loop. Barely days into 2007, the die was cast for the year to come: Fallon wrested the £45 million Asda business out of Publicis London after 17 years, earning it a top placing on the new-business league for the rest of the year.

Whether it's jealousy or pragmatism born of bitter experience, there were many who said Asda would break Fallon; that its client services demands would never sit with Fallon's creative DNA - the agency's litany, "It's all about the work", is never compromised.

A year on, that litany is still a cornerstone at Fallon, and can be seen in its strongest output to date: "baking of Fabia" for Skoda; "belonging" for Orange; the Eurostar St Pancras launch campaign; and Cadbury "gorilla", created and directed by Juan Cabral, sit alongside stunning work for Sony, including visually arresting campaigns for Blu-ray, Sony Walkman, CyberShot cameras and HD equipment, and the brilliant "Play-Doh", the third instalment in the "colour like no other" campaign for Bravia. And these weren't just ads that excited adland - these were campaigns that the public embraced.

Such a reel could give the impression that Fallon is all about impressive, but old-school, TV campaigns. That is flawed. Alongside Sony "balls", "gorilla" is the most viewed (and re-edited) ad on YouTube; the agency has a growing digital presence, it took home the Cannes Integrated Lion for Tate Tracks, its collaboration between musicians and artists.

What's more, creative innovation hasn't been at the expense of business growth. Alongside Asda, Fallon added the £10 million Eurostar business in March, following that with Cadbury's Dairy Milk, Budweiser and, recently, Blacks Leisure Group.

Billings are up 88 per cent, from £63 million in December 2006 to more than £130 million this year, and the agency reports a 44 per cent increase in revenue. Such has been the growth that the agency is moving to bigger offices next year.

The key to Fallon's success has been talent - the way it nurtures it, and the way it manages it. When Andy McLeod split with his long-time partner Richard Flintham and left last year, the agency quickly promoted from within, handing bigger roles to Cabral and Micah Walker as lead creatives on Sony and Orange. Both have flourished.

True, there's been some flux in the creative department this year - Matt Doman and Ian Heartfield, the agency's star signings from Abbott Mead Vickers BBDO last year, defected to Beattie McGuinness Bungay, and Walker left the agency to emigrate to Australia this summer, but the three have been replaced by two creative directors, both of whom would be eyeing the top job in any other advertising landscape. That DDB London's Adam Tucker and TBWA\London's Tony McTear seem happier to be afforded the chance to make the kind of work they want, rather than run large departments, speaks volumes about the creative freedom given to the talent working at the agency.

Previous changes to the senior management - including the promotion of Karina Wilsher to managing director and Mark Sinnock to chief strategy officer - were cemented in September, in part to cover Michael Wall's long-predicted departure as the international president, but more to deal with the Publicis Groupe decision to unite Fallon and its sibling Saatchi & Saatchi under a new group structure, headed by the Fallon founding partner Robert Senior.

Chris Willingham, a former senior account director, was named client director; Magnus Djaba, the former client services director, was promoted to director of development; and Chris Kay moved from group account director to head of account management in a move that was designed to free Senior up to spend more time at Saatchis.

The logistics of the SSF Group move will play out in the coming months, but it is testament to Senior's talent and Fallon's strength in the London market that the agency wasn't just merged into Saatchis, the larger brand.

While Senior is still wedded to the agency he helped found in London, the demands at the struggling Saatchis will surely mean he'll be spending more of his time at Charlotte Street. But in the chairman and co-founder, Laurence Green, the agency has a suitably heavyweight front man. While many of Fallon's agency peers waste time codifying their points of difference, or undergoing drastic surgery to try to recast themselves for a leading part on the changing media stage, Fallon is quietly but effectively positioning itself in that very role, creating ads that engage with modern viewers, both off- and online, and winning client converts savvy enough to have spotted that the agency of the future is already operating in London.

Abbott Mead Vickers BBDO's year was defined by its great new-business record.

The agency, which battles against a client list longer than the Great Wall of China and all the problems that this would present, won 14 out of 17 pitches, posting a run of nine wins on the bounce since March. These included briefs for Birds Eye and Clarks, as well global network wins for Monster and Wrigley's Extra, adding £42 million of new business and stretching its lead over JWT in the Nielsen billings table to more than £100 million.

But just keeping up with the competition in new business these days isn't enough - you also need a truly outstanding reel as well.

This year, AMV BBDO has been a bit hit-and-miss creatively, with work for Guinness and Motorola failing to create the stir of a "Play-Doh" or "gorilla", while its first work for Birds Eye, starring Suggs from Madness, picked up a Campaign Turkey of the Week.

That's not to say there hasn't been good ads. "No such thing" for Focus and "bullet" for Choice FM proved creative talent is there.

Bartle Bogle Hegarty's year was a strange but successful one. The agency started off like the clappers, picking up the Lynx digital account (a coup) and the Vodafone UK business from JWT (not so much of a shock). But a fallow patch ensued; and it lost out on a number of new-business pitches. But in true BBH style, the agency rallied and rounded off the year on a high by grabbing the ITV and LG tasks.

Of course, that isn't to say the agency spent the middle of the year stagnating. After using 2006 to bed in the Persil and British Airways accounts, it exploded into 2007 with plans to boost personnel, output and creativity.

BBH expanded its senior management team to seven by promoting the creatives Rosie Arnold and Nick Gill. It also hired new faces from new media to inject new skillsets, such as Dominic Goldman from Publicis Hal Riney (San Francisco) and Nick Stringer, a content director from Channel 4.

Recent winners: Fallon (2006); Bartle Bogle Hegarty (2005); BBH (2004); BBH (2003); Mother (2002)


This article was first published on campaignlive.co.uk
comments powered by

Disqus
---