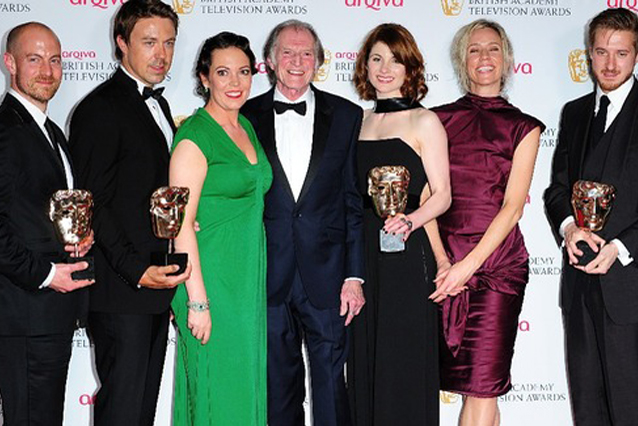 The BBC averaged 5.1 million viewers for the ceremony between 8pm and 10.30pm, representing nearly a quarter (23.5%) of all viewers (down by one million on 2013).
The show's audience culminated in its five-minute peak as Broadchurch star Olivia Colman was awarded best female actor at the end of the evening.
It was the third Bafta for the ITV hit crime drama series, which also won awards for supporting actor and best drama.
ITV's perennial winners Ant and Dec did not disappoint, picking up two accolades for best entertainment performance and programme. Accepting the award, Declan Donelly said winning was "really just a nice big cherry on top of a cake we all love".
Also on the night, ITV News at Ten won best news coverage for its treatment of the Woolwich attacks, while BBC television series Doctor Who received the Radio Times Audience Award.
C4 hails 'a fitting tribute'
At Channel 4, the critical acclaim is particularly welcomed during a year in which chief creative officer Jay Hunt faced criticism after audiences fell more than 5%.
At the Theatre Royal event, Channel 4's The IT Crowd won two awards, with Richard Ayoade and Katherine Parkinson winning for Male and Female Performance in a Comedy Programme respectively.
Channel 4's first series of Gogglebox, the show about households watching television, was successful in the Reality & Constructed Factual category.
In drama, the award for leading actor went to Sean Harris, for his performance in Southcliffe. The Bafta for Single Drama was won by the intelligent and powerful domestic terrorism thriller Complicit. In his acceptance speech for Complicit, Kevin Toolis paid tribute to 4 as "not the biggest but the boldest broadcaster in the world".
Meanwhile, Channel 4's factual team celebrated a series of wins: Bedlam won for Factual Series; The Murder Trial, which saw cameras placed inside a British court for the entirety of a trial, won for Single Documentary; and Syria: Across the Lines (Dispatches) received the Bafta for Current Affairs, the tenth Bafta (across Television and Television Craft) for a Dispatches film.
Hunt told Media Week: "Winning eight Baftas feels like a fitting tribute to what's been a strong year creatively on 4. The range of shows and talent celebrated, speaks to the quality and diversity of what we have on air right now."
All the 2014 Bafta winners
LEADING MALE ACTOR

WINNER: Sean Harris, Southcliffe – Channel 4
Jamie Dornan, The Fall – BBC Two
Luke Newberry, In The Flesh – BBC Three
LEADING FEMALE ACTOR

WINNER: Olivia Colman, Broadchurch - ITV
Helena Bonham Carter, Burton and Taylor – BBC Four
Kerrie Hayes, The Mill – Channel 4
Maxine Peake, The Village – BBC One

SUPPORTING ACTOR

WINNER: David Bradley, Broadchurch – ITV
Jerome Flynn, Ripper Street – BBC One
Nico Mirallegro, The Village – BBC One
Rory Kinnear, Southcliffe – Channel 4

SUPPORTING ACTRESS
WINNER: Sarah Lancashire, Last Tango in Halifax – BBC One
Shirley Henderson, Southcliffe – Channel 4
Claire Rushbrook, My Mad Fat Diary – E4
Nicola Walker, Last Tango in Halifax – BBC One

ENTERTAINMENT PERFORMANCE

WINNER: Ant and Dec, Ant and Dec's Saturday Night Takeaway – ITV
Charlie Brooker, 10 O'Clock Live – Channel 4
Sarah Millican, The Sarah Millican Television Programme – BBC Two
Graham Norton, The Graham Norton Show – BBC One

FEMALE PERFORMANCE IN A COMEDY PROGRAMME

WINNER: Katherine Parkinson, The IT Crowd – Channel 4
Frances de la Tour, Vicious – ITV
Kerry Howard, Him & Her: The Wedding – BBC Three
Doon Mackichan Plebs – ITV2

MALE PERFORMANCE IN A COMEDY PROGRAMME

WINNER: Richard Ayoade, The IT Crowd – Channel 4
Mathew Baynton, The Wrong Mans – BBC Two
James Corden, The Wrong Mans – BBC Two
Chris O'Dowd, The IT Crowd – Channel 4

SINGLE DRAMA

WINNER: Complicit, Guy Hibbert, Niall MacCormick, Kevin Toolis, Jolyon Symonds – Many River Films/Channel 4
An Adventure in Space and Time, Mark Gatiss, Matt Strevens, Terry McDonough, Caroline Skinner – BBC Wales/BBC America/BBC Two
Black Mirror: Be Right Back, Barney Reisz, Charlie Brooker, Owen Harris - Zeppotron/Channel 4
The Wipers Times, David Parfitt, Andy De Emmony, Ian Hislop, Nick Newman – Trademark Films/BBC Two
MINI-SERIES

WINNER: In the Flesh, Hilary Martin, Ann Harrison-Baxter, Dominic Mitchell, Jonny Campbell – BBC Drama Production Salford/BBC America/BBC Three
The Fall, Allan Cubitt, Jakob Verbruggen, Julian Stevens, Gub Neil - Fables Lts/Artists Studio/BBC Two
The Great Train Robbery, Production Team - World Productions/BBC One
Southcliffe, Tony Grisoni, Sean Durkin, Peter Carlton, Derrin Schlesinger - Warp Films/ Channel 4

DRAMA SERIES

WINNER: Broadchurch, Production Team - Kudos and Imaginary Friends (a co-production)/ITV
My Mad Fat Diary, Tom Bidwell, Greg Brennan, Roanna Benn, Jude Liknaitzky - Tiger Aspect Productions/E4
Top of the Lake, Emile Sherman, Iain Canning, Jane Campion, Philippa Campbell – See-Saw Films/BBC Two
The Village, Production Team - Company Pictures/BBC One

SOAP & CONTINUING DRAMA

WINNER: Coronation Street, Production Team – ITV Studios/ITV
Casualty, Production Team – BBC Drama Productions/BBC One
EastEnders, Production Team – BBC Productions/BBC One
Holby City, Production Team – BBC Drama Productions/BBC One

INTERNATIONAL

WINNER: Breaking Bad, Vince Gilligan, Mark Johnson, George Mastras, Sam Catlin - High Bridge Productions, Inc. and Gran Via Productions in association with Sony Pictures Television/Netflix
Borgen, Adam Price, Tobias Lindholm, Jannik Johansen, Camilla Hammerich - DR/BBC Four
House of Cards, Beau Willimon, David Fincher, Joshua Donen, Kevin Spacey - Donen/Fincher/Roth and Trigger Street Productions, Inc. in association with Media Rights Capital for Netflix/Netflix
The Returned, Caroline Benjo, Fabrice Gobert - Haut et Court/Channel 4

FACTUAL SERIES
WINNER: Bedlam, David Nath, Amy Flanagan, Rupert Houseman, Peter Beard - The Garden Productions/Channel 4
Educating Yorkshire, David Brindley, Grace Reynolds, David Clews, Andrew Mackenzie-Betty - TwoFour Productions/Channel 4
Keeping Britain Alive: The NHS in a Day, Magnus Temple, Amy Flanagan, Zac Beattie, Susannah Price – The Garden Productions/BBC Two
The Route Masters: Running London's Roads, Edmund Coulthard, Alistair Pegg, Matt Pelly, Simon Gilchrist - Blast! Films/BBC Two
SPECIALIST FACTUAL

WINNER: David Attenborough's Natural History Museum Alive, David Attenborough, Anthony Geffen, Mike Davis, Dan Smith - Collossus Productions/Sky 3D
Martin Luther King: The March on Washington, John Akomfrah, Lina Gopaul, David Lawson – Smoking Dogs Films/BBC Two
Richard III: The King in the Car Park, Simon Young, Julian Ware, Louise Osmond – Darlow Smithson/Channel 4
Story of the Jews, Production Team – Oxford Film and Television/BBC Two
SINGLE DOCUMENTARY

WINNER: The Murder Trial, Nick Holt, Marina Parker, Kate Barker, Ben Brown - Windfall Films/ Channel 4
28 Up South Africa, Angus Gibson, Jemma Jupp - Shiver/Aljazeera English/ITV
The Day Kennedy Died, Leslie Woodhead, Lorraine McKechnie, Sue Summers - Finestripe Productions/ITV
The Unspeakable Crime: Rape, Sara Hardy, Blue Ryan, Emma Hindley, Gwyn Jones - Goldstar Productions/BBC One

FEATURES

WINNER: Long Lost Family, Production Team – Wall To Wall Productions/ITV
The Choir: Sing While You Work, Gareth Malone, Tim Carter, Rachel Morgan, Stuart Froude – Twenty Twenty Television/BBC Two
Grand Designs, Kevin McCloud, Fiona Caldwell, Rob Gill, John Lonsdale – Boundless (part of FremantleMedia UK)/Channel 4
The Great British Bake Off, Annabel Beattie, Amanda Westwood, Samantha Beddoes, Simon Evans - Love Productions/BBC Two
REALITY & CONSTRUCTED FACTUAL

WINNER: Gogglebox, Tania Alexander, Paul Broadbent, Chantal Boyle - Studio Lambert/Channel 4
The Big Reunion, Production Team – Potato for ITV Studios/ITV2
Dragons' Den, Ceri Aston, Steven Handley, Paul Newton, Angela Williams - BBC Entertainment Production Salford/BBC Two
The Undateables, Luke Sewell, Sarah Spencer, Amelia Hann, Walter Luzzolino - Betty TV/Channel 4

CURRENT AFFAIRS

WINNER: Syria: Across the Line (Dispatches) Production Team –/ Quicksilver Productions Channel 4
The Cruel Cut, Richard McKerrow, Kieran Smith, Vicki Cooper, Leyla Hussein – Love Productions/Channel 4
The Hunt for Britain's Sex Gangs (Dispatches), Anna Hall, Matt Pinder, Paddy Garrick, Tazeen Ahmed – True Vision/Channel 4
North Korea: Life Inside the Secret State (Dispatches), Production Team – Hardcash Productions/Channel 4

NEWS COVERAGE

WINNER: ITV News at Ten: Woolwich Attacks, Production Team - ITN for ITV News/ITV
Channel 4 News, Production Team - ITN/Channel 4
The Dale Cregan Verdict: North West Tonight Spercial, Production Team – BBC News/Northwest Tonight Special/BBC One
The Lee Rigby Trial: ITV Granada Reports, Production Team – ITV Granada/ITV
SPORT & LIVE EVENT

WINNER: The Ashes 2013 - 1st TestT, Day 5 Production Team - BSKYB, Sky Sports/Sky Sports 2
Bollywood Carmen Live, Production Team – BBC Sports/BBC Three
Glastonbury 2013, Production Team – BBC Music Productions/BBC Two
Wimbledon Men's Final, Production Team- BBC Sports/BBC One

ENTERTAINMENT PROGRAMME

WINNER: Ant and Dec's Saturday Night Takeaway, Production Team –ITV Studios/Mitre TV Ltd/ITV
Derren Brown: the Great Art Robbery, Derren Brown, Anthony Owen, Martin Dance, Martin Turner – Objective Productions/Channel 4
Dynamo: Magician Impossible, Lucy Ansbro, Dan Albion, Alex Hartman, Debbie Young – Phil McIntyre Television/Inner Circle Films/Red Rocket/Watch
Strictly Come Dancing, Production Team – BBC Entertainment/BBC One

COMEDY AND COMEDY ENTERTAINMENT PROGRAMME

WINNER: A League of Their Own, Danielle Lux, Murray Boland, David Taylor, Jim Pullen – CPL Productions/Sky One
The Graham Norton Show, Production Team - So Television/BBC One
The Revolution Will Be Televised, Jolyon Rubinstein, Heydon Prowse, Mark Talbot, Joe Wade – Hat Trick Productions/BBC Three
Would I Lie To You?, Peter Holmes, Ruth Phillips, Rachel Ablett, Barbara Wiltshire – Zeppatron/BBC One

SITUATION COMEDY

WINNER: Him & Her: the Wedding, Kenton Allen, Stefan Golaszewski, Lyndsay Robinson, Richard Laxton - Big Talk Productions/BBC Three
Count Arthur Strong, Steve Delaney, Graham Linehan, Richard Boden - Retort/Komedia/Delightful Industries co-production/BBC Two
The IT Crowd, Graham Linehan, Richard Boden - Retort (part of FremantleMedia UK)/Channel 4
Toast of London, Kate Draughton, Arthur Matthews, Matt Berry, Michael Cumming - Objective Productions/Channel 4
RADIO TIMES AUDIENCE AWARD (voted for by members of the public)

WINNER: Doctor Who: Day of the Doctor
Breaking Bad
Broadchurch
Educating Yorkshire
Gogglebox
The Great British Bake Off

SPECIAL AWARD IN 2014

Cilla Black

FELLOWSHIP IN 2014
Julie Walters