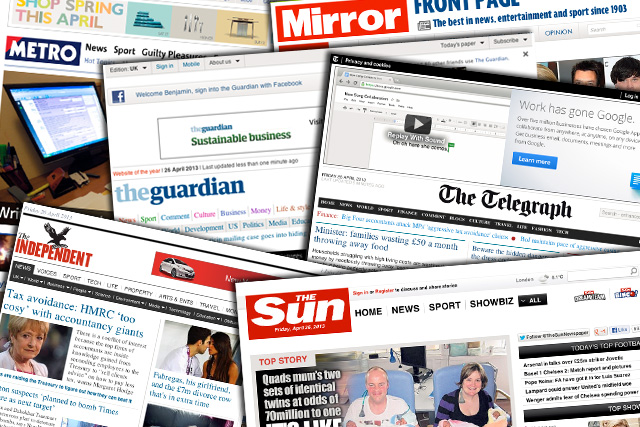 Publishers of sites associated with national news brands Mirror and Independent have both made a concerted push into increasing their online figures within the last year.
Mirror Group Digital broke the 2 million daily unique browsers for the first time, with an 8.61% month on month to 2,023,770.
Trinity's Mirror.co.uk reported a 5.29% rise in monthly web browsers to 42,880,543, and Independent.co.uk had a strong month with a 5.45% rise in daily browsers to 1,355,770, and 7.94% growth in monthly browsers to 29,894,151.
Full results below:
ABC Multi-platform report: December 2013
December 2013
Monthly % change
Daily ave
Total mthly
Daily ave
Total mthly
MailOnline
9,810,129
161,320,058
-5.70
-4.02
Metro
835,980
19,549,963
-4.54
-2.80
theguardian.com
4,595,213
85,259,691
-1.96
1.55
The Independent
1,355,770
29,894,151
5.45
7.94
Mirror Group Digital
2,023,770
42,880,543
8.61
5.29
The Sun
N/A
N/A
-
-
Telegraph
2,951,609
60,977,459
-2.71
0.56
Source: ABC Monthly Multi-platform report