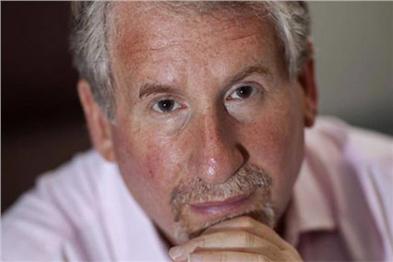 Modesty will probably prevent Simon Kelner from making much of the notion that he has now joined a pantheon alongside the likes of Remington's Victor Kiam and Bernard Matthews. After all, he doesn't actually own the company, nor does he sell (many) turkeys.
But he now features in a TV commercial for a product with which he is closely and uniquely identified - The Independent's concisely conceived little sister, i. If you haven't seen him give an eyeball-high pile of newspapers a good scissoring, reducing it to a blizzard of confetti, then you soon will.
You could argue that this - the starring editor, not the blizzard - had to happen eventually. Not because national newspaper editors are screamingly flamboyant extraverts, desperate for attention. Even at the trashy end of the market, only the former tabloid stars Kelvin MacKenzie and Piers Morgan can be tentatively included in that category - and many mid-market and quality editors tend, in public at least, to cultivate the cool aloofness of the academic or the technocrat.
And yet, there's another form of logic at play here because, famously, the editors of national newspapers know more about advertising than the hottest creative talent at the best advertising agencies they employ. That's according to those self-same editors, naturally. But creative agencies and their media agency partners have admitted, in their weaker moments, that they don't always share this philosophy.
But here's Kelner proving that if a job's worth doing, it's worth fronting it yourself. And, of course, it will be fascinating to see if the paper can maintain its more-than-decent track record where advertising effectiveness is concerned.
The i's previous TV campaign, featuring the minor celebrities Dom Joly and Jemima Khan, was a resounding success, even though it has now fallen foul of an Advertising Standards Authority ruling. The single complainant (a loyal reader, it has been suggested, of a rival title threatened by i's success) was apparently upset at claims in the commercial that i is a celebrity-free zone. The ASA agreed that the ad was, on this occasion, being rather less than generous with the truth.
All rather academic now, of course. The campaign, having done its job, is no longer running. It helped lift i's circulation to more than 170,000 in March, and the paper has been able to sustain this figure through April.
1. Newspaper publishers are reasonably big advertising spenders - and the lead medium tends to be television. The red-top market leads the way with an annual spend of around £34 million (this figure and those that follow are Nielsen moving annual totals, including the first quarter of 2011), dominated by The Sun (£15 million) and News of the World (£7.7 million). The Daily Mirror weighs in with a £6 million spend.
2. Over the last year, mid-market titles spent £23.5 million - and this was utterly dominated by Associated Newspapers, which spent £14.7 million promoting the Daily Mail and £6.3 million on The Mail on Sunday.
3. The quality market, which accounted for a spend of £21.7 million over the past 12 months, has the greatest spread of competitive activity. The Sunday Times (£4.5 million) and The Times (£3.5 million) lead the way and, of course, The Independent (£2 million) and i (£3 million) have been notably active too. The Guardian spent £1.4 million - but the Telegraph titles have been quiet, with a spend of under £200,000.
4. Aside from i's recent work, the most memorable campaign from a quality newspaper publisher in recent months featured a series of ads starring Justin Rose, Laura Bailey, Gorillaz and Rupert Everett promoting The Times' and The Sunday Times' revamped paid-for websites.
5. The Guardian and Observer were also active in January with an animated 20-second TV ad called "start happy" that promoted the contribution the titles could make to blowing away festive cobwebs and getting fit.
6. One of the most ambitious TV campaigns in recent months came courtesy of the Daily Mail in February. In what was billed as its biggest above-the-line marketing push in a decade, it ran with five different TV spots positioning the title as aspirational and inviting readers to trade up. And, as a minor precursor to the Kelner phenomenon, one of the executions featured the columnist Richard Littlejohn.
WHAT IT MEANS FOR ...
INDEPENDENT PRINT LIMITED
- Kelner is a unique phenomenon in the contemporary newspaper market. He has described a rare trajectory from editor (and, indeed, group editor-in-chief) to managing director and back to editor again. So he knows not just about how words and pictures make their way on to the page or screen, but also about the commercial realities of the media world.
- Few editors have a business brain. Few, though they might like to pretend otherwise, understand marketing or advertising. Kelner gives every impression that he does.
- In this respect, he's more than ably assisted by the executive editor, Stefano Hatfield, who not only edited thelondonpaper (and now has special responsibilities for i) in his previous role at News International, but knows a little about what advertising can and can't achieve, having been the editor of Campaign earlier in his career.
- They're doing something right - the Independent titles are, you could argue, punching well above their natural weight.
QUALITY NEWSPAPERS
- If rivals can learn anything from Kelner, and the more-than-decent performance of i, it might have something to do with the power of optimism. There are reasons for gloominess in the current market, but there are those in this market who seem to succumb all too readily to a pessimistic outlook.
MEMBERS OF EQUITY
- It is understood that fellow thespians are reserving judgment until Kelner gets a speaking part, but it's arguable that he expedites his scissor "business" with convincing aplomb.