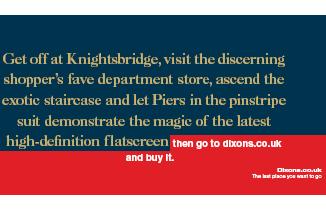 The campaign uses the strap line 'dixons.co.uk - the last place you want to go' and it plays upon the idea that customers will use alternative retailers for advice on products, but then purchase online at Dixons because of the prices it offers.
Activity, which goes live in London today, spans the underground, including cross-track postsers, tube cars, as well as digital cross-platform projections. There is also online banner ads on search sites including AOL and Yahoo, shopping portals and price comparison sites.
One ad says:
'Get off at Knightsbridge, visit the discerning shopper's fave department store, ascend the exotic staircase and let Piers in the pinstripe suit demonstrate the magic of the latest high-definition flatscreen then go to dixons.co.uk and buy.'
Niall O'Keefe, UK marketing director at DSGi said: 'There is considerable price competition in our market and before committing to a purchase customers tend to do a lot of research both on and offline. This campaign addresses that head-on and says, feel free to do your research, but make Dixons.co.uk your last port of call as here you will find all your technology needs and at low prices.
'With this campaign we aim to reach an even wider, particularly younger audience and communicate that Dixons.co.uk really is the (last) place to shop for consumer electricals,' he adds.