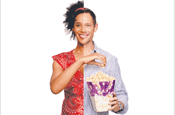 Telegraph Dating has been renamed Kindred Spirits, after the dating feature which runs in the
Daily Telegraph
and
Sunday Telegraph
.
The campaign emphasises the service is about meeting people with shared interests.
Barry Flanigan, Telegraph Media Group marketing director, said: "We wanted the dating site to be consistent with the in-paper identity."
It splices together separate images of two people who both hold on to an object that represents their common interest.
It is accompanied by the headline "Someone out there loves the same things as you. Let us bring you together."

What do you think of this hybrid human? Comment below the picture: