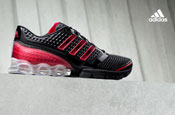 The F110 handset, which is designed for fitness fanatics, features a heartbeat monitor and a step counter, as well as an MP3 player. It is understood that Samsung will market the Adidas-branded handset as an alternative to Nike+, which comprises a computer chip that runners put in their trainers to send data about speed and distance to their iPod.
Samsung declined to comment on its plans to launch the phone in the UK, but it is expected to unveil the device later this week. The handset also features GPRS connectivity, a two-inch screen, a two-megapixel camera and a radio tuner.
In January, Adidas began approaching agencies with a pan-European brief to create an idea to rival Nike+. Agencies have been asked to produce a customer relationship initiative and a related ad campaign to engage consumers with the brand in an inventive and original way.