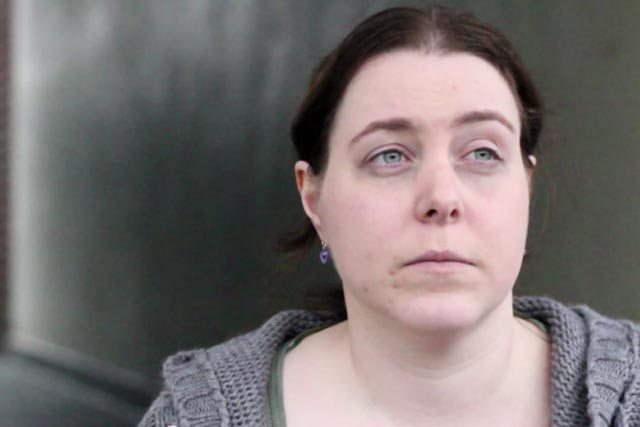 Pressure group War on Want is seeking public support with a campaign based around the abuse a woman called Anisha has suffered at the hands of her manager while allegedly producing adidas clothes in an Asian factory.
The campaign video, created by The Rainbow Collective, mimics the charity ads that target poverty and abuse in the UK. It features a London woman who describes Anisha's story.
She says, "He slapped me across the face and said that if I didn't stay I'd lose the whole day's pay...I work so long that I barely have time to see my own children."
The campaign is themed around the strapline "Exploitation. It's not OK here. It's not OK anywhere" and will be supported by protest activity.
Protests are being organised in stores selling adidas merchandise and protestors will be encouraged to put tags on adidas products to highlight exploitative labour practices.
The tags explain workers' poverty wages and excessive working hours and will direct shoppers to the campaign website where visitors will be encouraged to email adidas chief executive Herbert Hainer.
War on Want claims adidas, which is also the official sponsor of Team GB, has more than 775,000 workers making its products in 1,200 factories across 65 factories.
Murray Worth, campaigner at War on Want, said: "What's really shocking is at a time they are spending £100m alone on the sponsorship deal with the Olympics, never mind the additional deals with the athletes, that similar amounts of money are not being spent on real improvements in workers' rights.
"One of the main things we hope to get out of it is to raise awareness of the labour rights abuses that happen behind clothes on the high street.
"I think it's something we often think is down to particularly bad brands or associated with cheap clothing rather than something that is quite widespread."
In May, research by the Playfair 2012 campaign found workers making adidas goods being paid poverty wages and forced to work excessive overtime.
The research found people in China working from 8am to 11pm, while in the Philippines more than half the workers interviewed said to cover their basic needs they are forced to pawn their ATM cards to loan sharks for high-interest loans.
Adidas provided the following statement in response to War on Want's allegations.
"The adidas Group is fully committed to protecting worker rights and to ensuring fair and safe working conditions in factories throughout our global supply chain.
"As part of that commitment, we have been engaging in an open and constructive dialogue with various NGOs for years.
"To that end, we recently contacted War on Want on two separate occasions to discuss the allegations made in their last report but we are still yet to hear back from them.
"However, we take all allegations about working conditions extremely seriously and will investigate any new claims immediately.
"But it is very important to note that we found no evidence to support claims made in a previous War on Want report about factory conditions in Bangladesh.
"In fact, the report contained several inaccuracies, including the suggestion that adidas manufactures 2012 Olympic products in Bangladesh, which we absolutely do not.
"We also requested the details of the workers they had highlighted in the report but these have not been provided.
"We are the only London Olympic licensee to fully disclose our production locations and we are confident that we are adhering to and, in fact, exceeding the high standards which the organising committee has set for this, the first sustainable Olympic Games."
War on Want has disputed Adidas' claims that it suggested the brand manufactures 2012 Olympic products in Bangladesh and claims it has been in contact with Adidas since the last report.
Follow Matthew Chapman at @mattchapmanUK