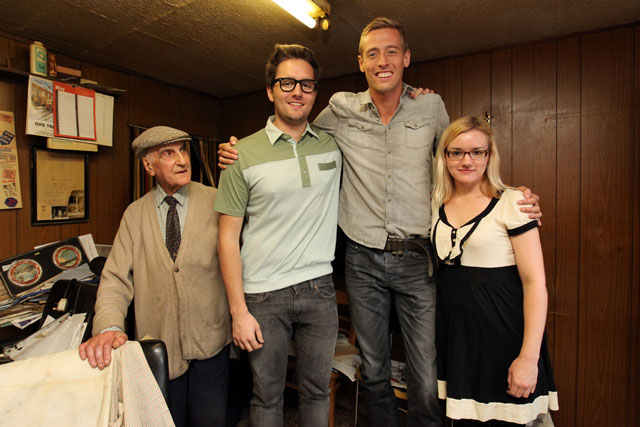 While the Prime Minister, David Cameron, said that social media "could be used for ill", agencies including Albion, Dare, Engine and Bartle Bogle Hegarty set out to show that it can also be a force for good.
Barry Lee, the group head of digital at ZenithOptimedia, said that social media was "an easy target". He added that the Government's response was "massively naive" as, during the riots, many people were looking to social media as "a form of reassurance".
It was social media that came to the aid of the 89-year-old barber Aaron Biber in Tottenham, North London, after he had his shop ransacked. The BBH interns Bjorn Conradi, Sophie Browness and Omid Fard, set up keepaaroncutting.blogspot.com in response to a brief to "do something good, famously". The website raised £35,000 in donations in 48 hours. The footballer Peter Crouch, a former BBH intern himself, popped along to have a haircut.
Dare launched the site thisisourlondon.com, which featured images from the capital's clean-up.
Chris King, a creative at Partners Andrews Aldridge, set up delootlondon.co.uk to help local businesses.
However, advertisers were forced to pull campaigns. Wieden & Kennedy delayed the UK launch of its European campaign for Levi's, "go forth", which featured a man confronting a line of riot police. Levi's postponed the film "out of sensitivity for what is happening in the UK".
VisitBritain also temporarily pulled an overseas campaign, which hailed London 2012 and the Queen's Diamond Jubilee as reasons to visit a proud Britain. The spot had been running on the BBC World Service, which was also showing news footage telling a very different story.
DOES ADVERTISING NEED TO LEARN LESSONS FROM THE RIOTS?
- Paul Bainsfair, director-general, IPA
"It's a massive over-reaction to say advertising needs to change following the riots. We're a very well-regulated industry. David Cameron held it up as a good example of how self-regulation works. It's short-sighted to say that a solution would come from reducing the way advertisers and agencies work to make products desirable for consumers."
- Tom Knox, joint CEO, DLKW Lowe
"I think advertising agencies and brands need to take responsibility for values they espouse. We need to think about what we are saying on behalf of brands and if it is contributing to society positively. Brands such as Levi's need to look at what they've done as it's not responsible. Why is a jeans company picturing scenes of people facing up to riot police?"
TIMELINE
9 August: VisitBritain pulls overseas campaign and Dare sets up website thisisourlondon.com.
10 August: Levi's suspends "go forth" spot in the UK.
11 August: BBH interns launch keepaaroncutting.blogspot.com in aid of barber Aaron Biber.
12 August: Partners Andrews Aldridge sets up portal delootlondon.co.uk encouraging consumers to spend money in shops affected by the lootings.
16 August: Two men are each sentenced to four years in prison for inciting violence on Facebook.