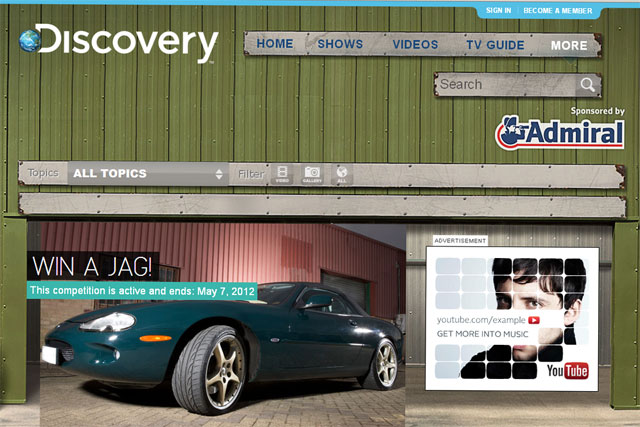 The deal for Admiral's MultiCar product, brokered by Michael Holt, director of brand solutions at Discovery Networks UK, Emma Dunn, media manager of Admiral, and Robbie Ashcroft, vision account manager for MPG Media Contacts, will include more than 300 hours of motoring content across Discovery Channel, Shed, Turbo, DMAX and Discovery Real Time.
This is the first time that motoring content has been sponsored on all these channels by one brand.
The creative will include a range of bumpers before the opening credits, ad breaks and closing titles of all motoring shows, and branding within the on-air marketing of sponsored programmes.
Programmes included in this deal are 'Wheeler Dealers', 'Fifth Gear', 'Chasing Classic Cars' and 'A Car is Born'.
The announcement includes a 12-month sponsorship of the popular 'Wheeler Dealer' motoring section on DiscoveryUK.com, which will be supported by a home-page promotion on the carousel. Additionally, there will be a bespoke microsite.
Also included in the sponsorship is a quarterly on-air competition to run throughout the 12-month period, with extensive promotion spots across Discovery Turbo, Discovery Real Time, Shed and DMAX, and support across Discovery social networks including Twitter and Facebook.
The deal comes two months after Admiral's rival insurance company, Aviva, ran a new ad campaign in January starring Paul Whitehouse, to support its own MultiCar insurance product.
Martin Heaton Cooper, vice-president of commercial development in the UK and Ireland for Discovery Networks UK, said: "Our motoring programmes attract a hugely loyal following in the UK, and Admiral are an ideal match for Discovery's extensive slate of popular motoring shows.
"We will be devising exciting on-air and digital executions, which will allow Admiral to engage directly with our audience and to promote their offering across multi-platforms."
Emma Dunn, media manager of Admiral, said that the Admiral brand was "an excellent fit" with the Discovery audience. She added that the planned idents and on-air promotions would "engage perfectly with Discovery viewers."
Follow Nick Batten on @NickBatten2