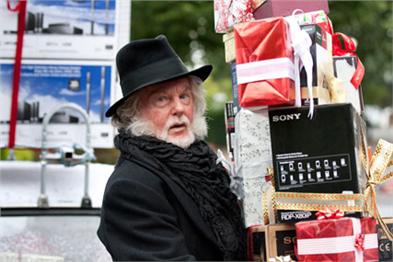 As our yearly scramble for the perfect presents intensifies and retailers vie for our attention, one thing is clear. Britain is more in the mood to celebrate compared with the end of 2009, when economic optimism was at a low point.
Purse strings seem likely to loosen slightly this Christmas despite continued worries about the economy, the looming increases in VAT and other austerity measures.
Indeed, far from dampening our enthusiasm, those austerity measures may even have made us more eager for a full-on Christmas season.
As part of this, more and more Britons are getting online to get the best deals. The cold snap and madding crowds are likely to further contribute to this trend as half of us opt to do at least some of our Christmas shopping from the comfort of our homes.
Christmas is an extremely challenging time for retailers as price wars begin and planning the right combination of media becomes tricky.
Getting the right mix, balance and timing of digital and traditional advertising is crucial. Unlike the rest of us, brand owners work with a 90 day advent calendar kicking off in October (or even earlier).
Keeping an ear on consumer buzz in the lead up to Christmas can help direct an on-the-go strategy. A programme of what we call 'social listening' can help brands gain real time understanding of online conversations, especially among your brand fans or 'otaku'.
This is a great tool to help design and refine an attractive offer. It can also help identify the best search strings to pay for, based on how people are talking about a brand or product.
Recent Ipsos ASI listening has revealed fresh insights for popular food brands, identifying different uses for the products, based around consumer conversations. Why start from scratch when you can build on what your brand fans are already doing, in real time?
Our love affair with Christmas advertising continues...


Forget about subduing cheer, we'd like our Christmas ads to egg on the holiday spirit in 2010. Fifty five percent of UK adults agree that Christmas ads help set the mood for the season.
So, even though 77% of us claim Christmas advertising makes no difference to deciding where we actually shop, we certainly acknowledge that advertising is a key ingredient to setting a festive tone.
The romance with Christmas advertising is especially pronounced among 15-24 and 34-45 year olds.
% agree a lot/little with "I love Christmas ads"


Source: Ipsos
Compared to this time last year, fewer UK adults agree that "Given the economic climate, Christmas advertising should be toned down", particularly amongst the young.
The 15-24 year olds have taken a stand against subduing Christmas ads by disagreeing with this statement twice as much as last year - from 22% to 44%.
% disagree a lot/little with the statement "Given the economic climate, Christmas advertising should be toned down"


Source: Ipsos
The 35-44 age group certainly has a cheerier outlook on Christmas spending than it did last year, planning to spend more on food, presents and visiting family and friends.
% 34-44 year olds spending a lot/little more compared to previous year
Source: Ipsos
And 25-34 year old bargain hunters plan to hit the Boxing Day and New Year sales with renewed vigour, almost doubling the amount they planned to spend last year (from 15% in 2009 to 26% in 2010).
This may in part be a tactical move to beat the VAT increase and update homes and wardrobes before it comes into effect. In what could be one last 'Hurrah' before strapping into tough times ahead, we say more power to it.
Warm hearths and comfy sofas make for better shopping
Almost half of Britain will do some of their Christmas shopping online. Retailers need to focus on capturing online sales by making sure that their websites are user friendly and offering convenient deliveries and returns.
'Tis certainly the season for a concentrated CRM effort and offering deals and discounts starting early. A third of consumers do their Christmas shopping a month or more in advance. So while 77% claim that Christmas advertising begins too early, holding back on Christmas mail-outs may cost sales.
Retailers should begin crafting good deals and offers as early as October and get brand fans involved in spreading the word.
This is especially true of 35-44 year olds, who are the biggest group using the internet to minimise hassle when shopping for their families.
% plan to do all/some Christmas shopping online

Source: Ipsos
Despite the consensus that Christmas marketing begins too soon, 35-44 year olds are also more positive towards an early kick off this year. Agreement with the statement "Christmas advertising begins too early" has dropped 11 points to 74% in 2010.
Higher reliance on the internet for shopping is likely to make these consumers more receptive to ads as they begin looking around for bargains sooner than usual.
Keeping pricing consistent across retail chains and online is important, as many consumers will compare prices online even if they choose to make the final purchases in-store.
Ipsos Retail research shows that in the last six months:
35% of UK adults have used a price comparison website
31% have used money-off vouchers
24% have browsed the Internet for the best promos and deals.
The ghosts of past recessions and future austerity may be rattling their chains, but Britain seems to have its heart set on a merrier Christmas in 2010.
More importantly, since it just wouldn't feel like Christmas without the frolicking M&S lingerie girl and the Coca Cola truck, here's to great holiday advertising, our unsung tradition. May it continue to capture our imagination and warm our spirits for many icy winters to come.
Data for the article was collected face to face from 489 UK consumers using the Ipsos MORI Capibus from 1 to 7 November 2010.
Keith Glasspoole, deputy chief operating officer, Ipsos ASI