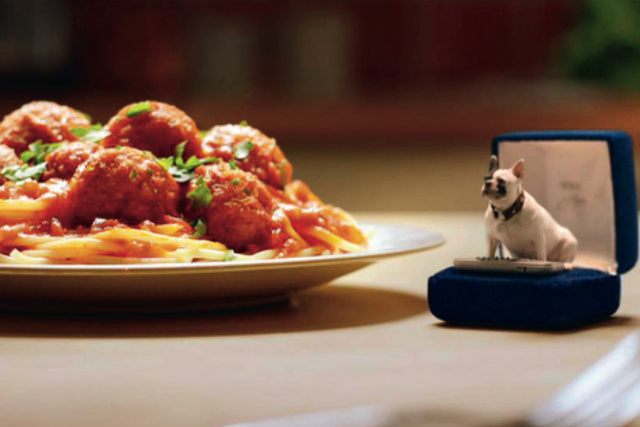 Another week, another campaign featuring a talking animal that's going to charm the nation, be talked about in offices, bars and building sites, and make the brand famous. And they say advertising is going to the dogs.
The four-legged friend in this case is named Alan, and he's the spokesdog for Wall's. He's from Sarf London and raps better than those blokes in One Direction. This particular ad has Alan perched in his ring-box home, with keyboard at the ready, delivering an ode to the meatballs perched on top of a steaming pile of spaghetti.
It is one in a series featuring Alan serenading a range of characters about Wall's meat products. It has all the necessary ingredients to cook up cliches and cringing product shots.
But it doesn't. It's wonderful, funny and insightful. Strategically, it's fantastically on-brand, rich and shareable. But best, and most important of all, it's brave.
Remember bravery in advertising? Saatchi & Saatchi and Kerry Foods obviously do.
It's rare in the collection of ads around today to find a brand that knows itself so well; knows to whom it's speaking; and what will charm the pants off them. Alan speaks on behalf of British men who can't express their feelings of gratitude to the people who present them with fine Wall's meat products. He's a wee pug presented in a ring-box, complete with a miniature keyboard. It's bonkers. And that's why it's brilliant.
In this particular ad, Alan thanks someone for putting tasty sausage balls on his pasta. He's thoughtfully brought Spanish music, because he couldn't find Italian. Other ads in the campaign are funnier, in no small part because they are longer than this one. All are wonderfully scripted and performed.
Alan is on Facebook and Twitter, too, although he's not making the most of those channels. Yet.
In recessionary times, the temptation is to focus on the product or promotional messages. What we have here, however, is a clear audience, a simple, powerful insight and a hard-hitting product message, all wrapped up in a captivating idea that has so much life in it.
To have the courage to take that leap - based on a strong, foundational insight and strategy to support your bonkers execution - is what makes for great advertising.
The food snob in me wants to dislike Wall's and its meat products. However, purely on the basis of the brand's advertising, I like them - and I suspect that is exactly what the clever marketing folk at Kerry Foods thought when they were presented with the idea.
This campaign teaches us a valuable lesson in the simplicity and power of marketing.
We are all guilty of over-thinking, over-complicating and taking things a little too seriously. It is a serious business that demands serious thinking and clarity of idea; but then, the brave let go, make room for a little magic and teach a dog to sing.
Brand strategy verdict: 9 out of 10
Rich, meaty insight; rich, meaty strategy; delicious idea. Woof.