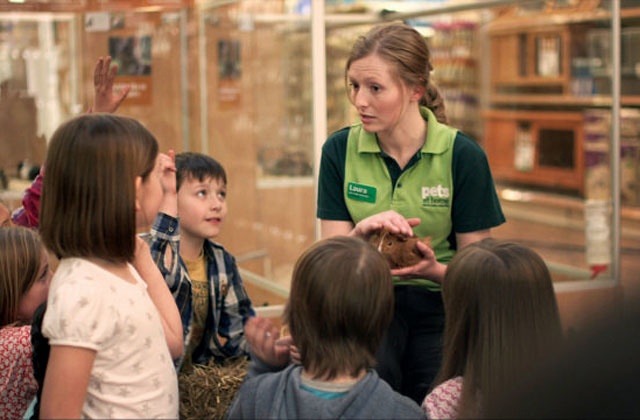 Billy Faithfull, creative director, WCRS
My first Adwatch.
I love watching ads. Don't we all? No, we don't. People hate watching ads. They actively avoid it. I've keenly observed commuters pinching together double-page spreads in magazines, turning both pages together to avoid advertisers' precious messages. So, if people don't like watching ads, how can you make them?
There are too many rules and few easy wins. Create emotionally engaging advertising, make your insights insightful, yadda yadda yadda. However, none is quite so powerful as the old 'put a dog in it'.
Need proof? Consider that the Andrex puppy and Churchill the dog have a combined total of almost 500,000 'likes' on Facebook. I know both spokesdogs personally (no, you can't meet them), and you wouldn't believe how many people care about them so much that they knit them jumpers in the winter and wish them 'nighty-night', nightly.
So creative types (you know who you are) often try to convince me that a cuddly creature is a talisman for increased profit and a bulging share price; but imagine a brief for a campaign where 'put a dog in it' was the start point. Or rather, 'put three dogs in it, two cats, a lizard, a fish, a cockerel, a frog, a parrot, a rabbit and a guinea pig'.
Wouldn't that be the most powerful advertising ever made? Couldn't that advertising be so popular, so watchable, so darn cute, that it acquires artificial intelligence and we all vote for it to become prime minister?
Unfortunately not. Enter Pets At Home, number seven in Adwatch this week, with its beautifully shot, well-thought-through relaunch, in which (rather condescendingly) we're told what the idea is at the beginning of the ad as well as the end. 'Ninety two per cent of our staff have pets at home', says the voiceover, which is why you are then shown a series of vignettes of these lovely creatures with their owners' names and job-titles in the DOGS (digital onscreen graphics).
I find it very hard to be objective about Pets At Home, mainly because it's got a 'widdle bunny wabbit' in it, but I can't help feeling that this could have been the most popular ad in the world ever, part IV. With the better part of a circus on set, couldn't there have been a little more magic?
Imagine if they all lived together. Couldn't they all be taught tricks? Why not do a 'bring your pets to work scheme', turn all the stores into impromptu petting zoos, and shoot the ads then? When I was eight, I would have held my breath till mum took me to meet a lizard.
Credit where it's due, though. This is nicely crafted, friendly advertising with a persuasive strategy. However, it's just a little bit boring, and for one moment, I'd like us all to dream of what could have been when a lizard, a guinea pig and a cockerel walked into a bar.
Brand strategy verdict: 5 out of 10
Solid strategy mildly let down by slightly average creative work. Honestly, it's almost as if 'LOLcats' never happened (Google it).
Adwatch: Top 20 recall (20 June)
Latest
Jun-13
Brand
Agency/TV Buyer
Recall
rank
%
1
(–)
Ocean Spray
Arnold Worldwide/
Mindshare
62
2
(–)
Pedigree
TBWA\Chiat\Day
, Abbott Mead Vickers BBDO/
ZenithOptimedia
44
3
(–)
Burger King
CHI&Partners/Initiative
43
4
-4
Aldi
McCann Erickson Manchester/
Universal McCann Manchester
42
5=
(–)
Aviva
Abbott Mead Vickers BBDO/
ZenithOptimedia
41
5=
(–)
Cancer Research
UK
The Good Agency/
MediaCom
41
7
(–)
Pets at Home
Krow/MEC
40
8
(–)
Lloyds TSB
RKCR Y&R/MEC
37
9
(–)
Subway
McCann Erickson/
MediaCom Scotland
33
10
(–)
Hovis
Dare/Starcom
32
11=
(–)
Tesco
The Red Brick Road/
Initiative
31
11=
(–)
Comfort
Ogilvy & Mather/
Mindshare
31
13
(–)
Corsodyl
Grey London/
MediaCom
29
14=
(–)
Dettol
Euro RSCG London/
ZenithOptimedia
28
14=
(–)
Müller
VCCP/MediaCom
28
16=
(–)
DFS
Krow/MediaCom
27
16=
(–)
Pilgrims Choice
Karmarama/
Rocket
27
18=
(–)
Marks &
Spencer
RKCR Y&R/
Walker Media
26
18=
(5=)
McDonald's
Leo Burnett/
Carat
26
20
(14=)
Sky
Brothers & Sisters/
MediaCom
25