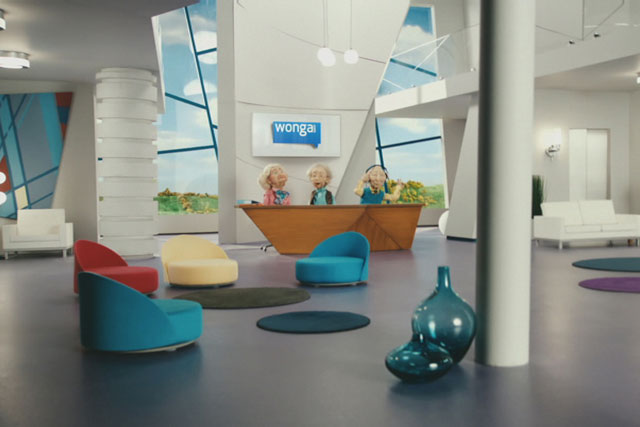 As a self confessed Adwatch connoisseur, by my reckoning, the 71% awareness that places Wonga at the top of this week's league table is pretty damn good.
And it's easy to see why. With its cast of aged puppets confidently au fait with modern technology, the campaign provides a master class in cut through, engagement and attribution. As those thirty seconds draw to a close, no one on God's earth can be in any doubt of what they saw, who it was for and what it was on about. So when it comes to recognition nearly three quarters of the adult population seem to have got the point – bosh! As we like to say on T-Mobile.
If we were being picky we could quibble a little with the craft of the work. While it worships at the seat of other campaigns for low interest categories (and we will come back to the irony of this description) it somehow misses the mark a little. Wonga's geriatic slice of life lacks the lunacy of Compare The Market, the irritating memorability of GoCompare or the unique tone of voice of MoneySupermarket. It feels a little like client and agency alike had decided that they needed to do a 'Meerkat' and as a result, while technically and rather successful, it doesn't quite hit the creative high notes. Like I said, picky.
However, all this chit chat about strategic success and creative excellence rather detracts from the real issue. At the top of the Adwatch league table is a business that is inordinately contentious and it's been put there by 'A list' advertising. If nothing helps a poor product fail faster than great advertising then nothing thrusts controversial industries into the limelight more than great advertising. And this is surely worthy of a little debate.
On the one hand advertising is being incredibly successful in helping Wonga lure those in need into taking out pay day loans at an incomprehensible APR of over 4000%. Loans from a company that has been repeatedly censured by the Office of Fair Trading for its marketing and approach to debt collection and is something that should make even the most hard hearted libertarian ad man wince a little.
On the other hand advertising is being incredibly successful in promoting a service as an immeasurable value to its customers (Wonga enjoys prodigious net promoter scores). A service from a brand that is nothing if not brutally transparent. It's not like they are shy in showing their APR. And what's more, their data driven approach to credit scoring is anything but irresponsible and leaves them with incredibly low levels of bad debt.
And which side of the debate you fall matters because how we use advertising and who we use it for reflects on the whole industry and both the public acceptance and political sanction we enjoy. This is one Adwatch that forces you to look beyond the rank, score and creative prowess and ask broader questions of our business.
Brand strategy verdict: 7 out of 10
The effectiveness of Wonga's work is not in question, it works like a treat. But this is precisely what begs bigger questions about the campaign.
League Tables