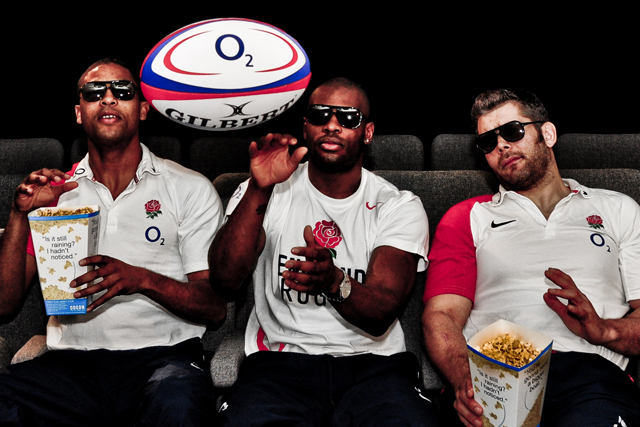 The awards, sponsored by Royal Mail, were held last night at the City of London's Old Billingsgate venue. The AIS campaign claimed Gold in four of the DMAs' 34 categories, with the agency also picking up Golds for a separate campaign for O2 and its campaign for Skoda UK.
O2 commissioned AIS to bring the live experience of the England rugby team's matches to its customers who were unable to get tickets to the international fixtures.
The innovative campaign saw the creation of 40 "mini Twickenhams" at cinemas across the country, which, for the first time, broadcast the England games in 3D.
To create a suitable stadium atmosphere, fans were given free beer and flags to wave, with their viewing experience augmented by the use of expert commentary and 3D match graphics.
The campaign, which mimicked O2's ongoing promotion of music events, was conceived to help transform its customers into fans of the brand. As well as generating £250,000 in ticket sales, the campaign resulted in more than 100,000 new consumers registering with O2's Priority experiences website.
Other big winners on the night include Partners Andrews Aldridge who took home five Golds, and Elvis, CreatorMail and Arthur London who each claimed two Golds. Geronimo won gold for best direct response TV ad for its work with Direct Line.
Entries were judged by 200 senior professionals with judging teams comprising copywriters, art directors, data planners, media buyers, planners, clients and sector specialists. Each campaign was judged individually and then by group discussion on three key criteria: strategy, creativity and results.
Rory Sutherland, vice-chair of Ogilvy Group UK, served as the chair of the 2010 DMA Awards Panel of Judges.
Sutherland, commenting on the Grand Prix winner, said: "This was a worthy winner in so many ways. It's very much a post-modern piece of direct marketing in that it incorporates the principles of direct marketing, while also incorporating elements from other disciplines. And it uses the new digital technology in the best way possible – in the service of an idea rather than as the source of it.
"You would be hard pressed to improve on this – unless of course the client had sponsored the Welsh national team, rather than that of our Saxon occupiers."