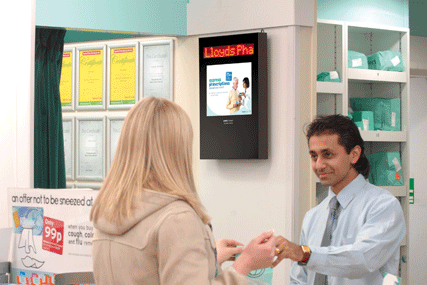 Initially, the 15" screens will be installed in Lloyd's Pharmacy stores throughout Birmingham and Oxford. More regional expansion plans are expected to follow.

As a division of Amstrad, Amscreen is run by chief executive Simon Sugar, while Lee McQueen, this year's winner of The Apprentice, is the business development director.

Sugar said digital signage technology has great potential to create additional revenue streams for a range of brands and retailers. He said he was delighted to announce this deal with Lloyd's pharmacy and look forward to extending the relationship.

Content is remotely updated from head office to the "Plug in and play" screens. Simon Sugar said "customers can control their own media in real-time" and the screens simply plug into a power socket.

David Harland, head of retail planning and Future Pharmacy at Lloyd's Pharmacy, said: "We are always looking for ways to improve the customer experience and believe Amscreen's products can help us with this."

It was announced in August that McQueen was going to launch a new out-of-home division. The company's tagline is: "Your media in real time". It will seek to generate money through advertising and making the screens.