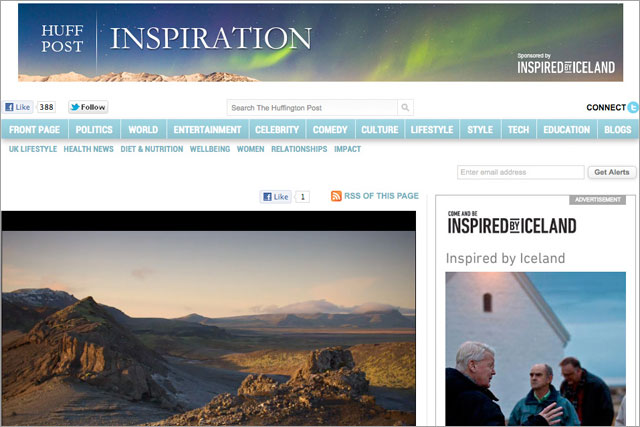 The 'Inspired by Iceland' campaign launches today and will run across AOL sites – The Huffington Post, MyDaily, AOL Travel and AOL advertising platforms Advertising.com and goviral.
It brings to life The Huffington Post UK's first branded blog, as part of the new "Inspiration", which offers brands deeper social integration with readers through video, blogs and social media.
The marketing push by The Brooklyn Brothers and Islenska promotes Iceland as a year-round tourism destination and targets affluent consumers.
AOL claims this is the first pan-European marketing effort that integrates "a comprehensive suite of AOL advertising products, content and platforms".
The campaign features: a 12-minute documentary on Iceland, called "Islander", created by Bafta-nominated director Rupert Murray, which is being run on Huffington Post UK's Inspiration page; a trailer for the documentary, distributed across goviral; the first live camera feed on display advertising format Project Devil; and sponsored content.
Noel Penzer, managing director UK & vice president, International, The Huffington Post Media Group, said: "Inspired by Iceland will engage prospective consumers with AOL's full suite of creative solutions and innovative platforms.
"Working hand-in-hand with the client and agencies from the outset, we've been able to push the envelope in our creative efforts in delivering a campaign that's groundbreaking and sure to make an impact with our users."
Follow Loulla-Mae Eleftheriou-Smith on Twitter @LoullaMae_ES