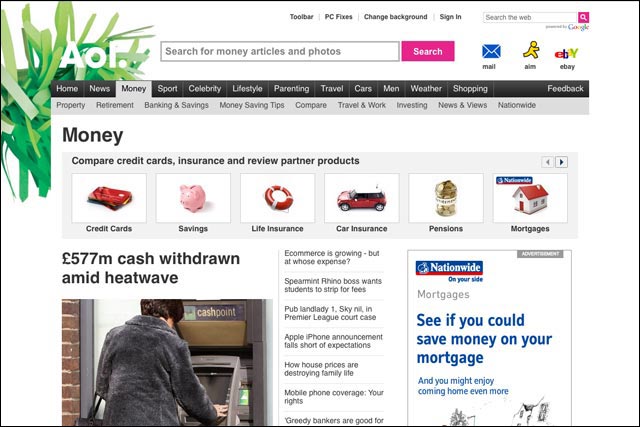 The site, which launches today (5 October), has a greater focus on consumer finance, with news, features and expert advice on subjects including mortgages, savings and banking, to appeal to "money-savvy" consumers and AOL's core audience.
Nationwide, the building society, has launched a campaign on the site, promoting its mortgages, savings and current accounts. The campaign includes homepage takeovers with AOL's new Devil premium ad format.
The deal, which runs until January 2012, was brokered by MPG Media Contacts.
AOL Money has a dedicated editorial team to produce content.
Tom Flack, managing editor, finance at AOL UK, said: "In today's economic times, consumers want financial information that's easily accessible and digestible.
"AOL Money brings together the best content from our experienced team of journalists to give people a complete financial picture, whether you're looking to save, spend or invest."
The launch comes the week after AOL disclosed that its Europe chief Kate Burns was stepping down from her role, to be replaced by Rene Rechtman as head of Europe for Advertising.com, and Jimmy Maymann, as head of media outside North America.
Earlier this year, AOL announced it was pulling its music and sports sites, to focus on the Huffington Post and its bigger brands in the UK.
Follow Sarah Shearman on Twitter @shearmans