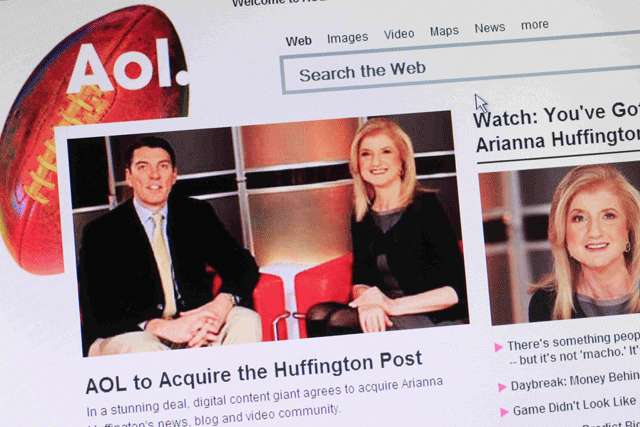 If AOL's $315m (£196m) purchase of the Huffington Post was a move nobody saw coming, it was a fairly easy one to reconcile with the online media giant's past behaviour, on several levels.
On the one hand, AOL has been publicly pursuing a content-based approach to driving up the value of its advertising assets since it launched the online women's magazine, mydaily.co.uk, last October.
It was also known to be on the acquisitions trail; another arrival, the £60m Goviral, preceded 'HuffPo' through AOL's doors by a week. Moreover, AOL chief executive Tim Armstrong's recent leaked memo detailed the strategic '80/80/80' focus that seeks to explain all these moves: 80% of domestic spending is done by women, 80% of commerce happens locally and 80% of considered purchases are driven by influencers.
On the other hand, there were less-welcome precedents, such as the AOL/Time Warner merger and the acquisitions of Bebo, affiliate marketing network Buy.at and ad network Tacodo, all of which have passed into legend as bad - or at least badly integrated - deals.
'AOL has tended to buy a very good business and then put it in a room and slowly turn down the oxygen,' says Cameran Harman, managing director, UK at ad network Ad2One, who until 2009 was director, product and property sales at AOL UK.
'It gets bad press for making bad buys, but I don't think that's necessarily the case,' adds Harman. 'A lot of them have been really good companies, which the Huffington Post certainly is.'
Even with founder Arianna Huffington staying on as president and editor-in-chief of AOL's editorial stable, there are fears her site's fiery, progressive and on the whole unpaid contributors could take their talents elsewhere.
'All of the news around this suggests that the bloggers who currently write the thing are not very happy, and are thinking about leaving, which would give AOL a bit of an issue,' warns Paul Vassallo, head of digital trading at MPG Media Contacts.
Assuming AOL can clear that particular hurdle, there are interesting elements to the deal. Not the least of these is that it pits AOL's ad-funded strategy against News Corp's subscriptions drive for The Times and the iPad-only New York paper The Daily.
'The two approaches jar,' says Charlie McGee, managing director of Carat Digital. 'Rupert Murdoch is saying, "You're going to pay for all your content and we're going to block Google". Then on the other side you have Arianna saying, "No, no, no, it's all free".'
In a statement to Marketing, AOL Europe senior vice-president Kate Burns said: 'We are creating one of the largest destinations for smart content - a place where advertisers want to see and align their brands, and users can interact and enjoy attention-grabbing content and brand experiences.'
However, for some the fit between AOL's family-friendly image and HuffPo's confrontational politics strikes a strange note.
'If people are reading an interesting political viewpoint about Egypt, what ads do they want to look at? That is a challenge for news sites,' says Harman.
Nonetheless, he feels the acquisition goes some way to answering the issue of how to draw revenues from news sites. 'AOL understands that portals are going to decline in users,' he explains.
'People don't just want to be told what's interesting, they want to find things for themselves. That's what the content strategy is about.'
What @MarketingUK followers thought
@AndrewCarrier Good for Arianna Huffington, bad for AOL (who overpaid) and disastrous for readers (who will see quality of content suffer).
@Joel_Hughes I don't get it ... might be genius ... or might be a disaster like Skype/eBay and ITV/Friends Reunited.
@Luke Regan great for HuffPo but where is the growth that AOL will need going to come from?
IN MY VIEW 'The sites bought seem incredibly niche'
Scott Gallacher, Director, Aston Group; chairman, The Marketing Society Digital Network
'I think AOL generally has a pretty good strategy for acquisitions, but an exceptionally poor ability to execute them when it has brought them in. It seems now that it has gone from being a platform for advanced online marketing to being a content portal.
'If you look at the big growth areas online, such as Twitter, Facebook and Groupon, they have all created platforms that enable people to share and organise the content they have, rather than creating the content in itself.
If AOL stuck to its core business of profiting from and driving advertising, and being a portal for other people's content, I could see that making sense, but the sites that it has bought seem to be an incredibly niche offering.'
IN MY VIEW 'Access to 100m more users is gold dust'
Charlie McGee, Managing director, Carat Digital
'From a marketing or advertising point of view, the jury is out on this, but my opinion is that it will turn out to be a shrewd move by AOL. The Huffington Post is the biggest acquisition of a blog. That in itself is a pretty big deal, and sits in line with AOL's strategy for growth.
'This is about regenerating AOL's advertising product. It has actually seen a decline, even though the online advertising environment has been pretty buoyant. Now it has access to another 100m users - along with their data and web behaviour - and for an advertiser that is gold dust.
A lot of it is going to be about the integration, but AOL is a technology and media company, so it should really be able to apply technology that allows it to sell the data on.'