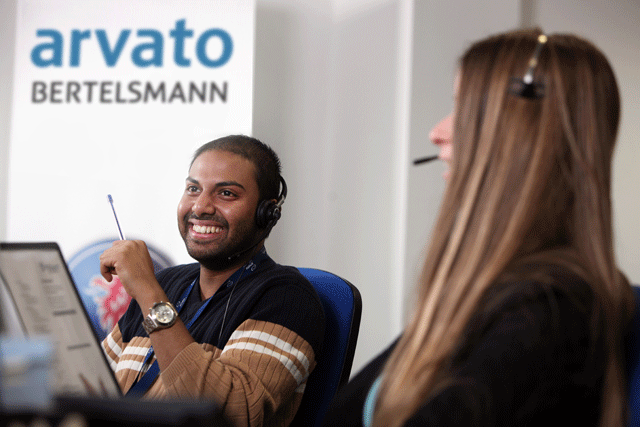 For Texaco, Arvato was appointed to develop and implement a bespoke loyalty platform for its Star rewards programme. The system processes customer rewards earned in more than 1m transactions a month, across 825 Texaco-branded service stations in the UK. The platform's front end enables customer service agents to deal with programme members' enquiries while also providing powerful revenue-generating.
In April this year, Arvato secured a new contract with Derby City Council, to help the authority embed effective and rapid refinements into its in-house benefits service. The new agreement is worth up to £390,000 for one year, with an option to extend for another two years.
Arvato's contact centre revenue has demonstrated double-digit growth over the past four years and judges were particularly impressed with Arvato's client-friendly approach, saying that it 'clearly has clients at the heart of what it does'.
With 3000 employees across multiple locations, the business also continues to invest in attracting new talent and technology. It implemented cutting-edge video-chat technology to support the launch of Renault's zero emission electric cars, which enables consumers to talk 'face-to-face' with experts online and get a real insight into such vehicles.
Database Factory started in 2000, as a specialist subscription management bureau servicing the partwork publishing sector, for clients such as Eaglemoss.
In the past seven years, it has diversified its business - of the £4.6m it is expected to turn over in 2012, less than £1m will come from its original partwork clients, while the business has grown an average of 16% every year for the past four years. Much of its new business comes from referrals from existing clients, and companies have also been happy to effectively recommend a competitor to Database Factory's services.
The company believes that part of the reason for this comfort in making referrals comes from ensuring its clients are happy. The contact centre has developed an index to quantifiably measure customer satisfaction, the results of which are shared with the team every month. The company says this encourages the whole business to focus on what is important to its clients.
Database Factory has also invested in its employees, recruiting more than 200 people in the past 24 months, and set up an initiative called the DBF Academy. This two-year programme shows the progression that any consultant can make within the business, with the aim of helping people to 'move on' in the company. There is a focus on areas including 'teamwork', 'setting the example', 'communication' and 'personal standards'.
PREVIOUS WINNERS
2011: CPM
2010: Teleperformance
2009: n/a
2008: The Listening Company
2007: The Listening Company