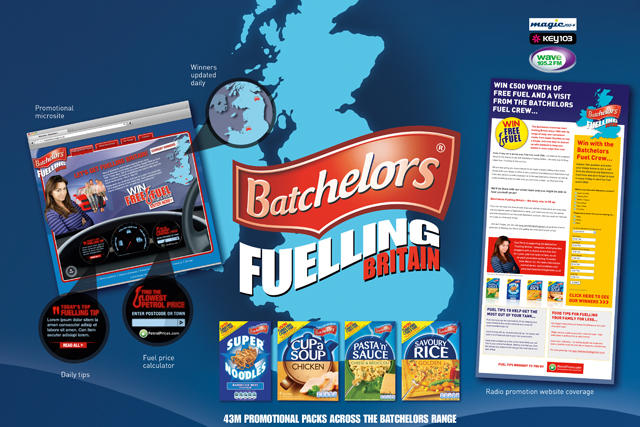 Haygarth shows no sign of relinquishing the title of Marketing's Promotional Marketing Agency of the Year any time soon, having snatched it from Billington Cartmell in 2011.
Instead, the Wimbledon-based independent has raised its game across the board. In a tough market, the agency also won the year's biggest pitch, for Vodafone's retail business, helping to increase new-business gross profit by £1.6m. Both revenue and profits showed double-digit growth.
The vibrancy of the current crop of promotional agencies impressed judges. Haygarth, though, had the edge over its competitors by dint of a performance that ticked all the boxes.
Promotional marketing is a proven refuge for under-fire clients during tough times, and Haygarth has responded to the need to make campaigns work harder. It has placed planning at the heart of the business with continuous evaluation of campaigns. This drive for effectiveness was demonstrated in a campaign for Batchelors that linked to the recessionary zeitgeist to offer free fuel as prizes.
Year-on-year sales went up by £2.2m.
To deliver business growth, Haygarth adopted a selective approach to pitching. It has also concentrated on being creatively bigger and bolder, and has invested in specialist skills, such as experiential delivery and an expanded data team to improve its integrated offering.
The result is a balance of long-term retained clients and new accounts. In 2012 there was a 60% pitch conversion rate, while new business was up 15% on last year.
In creative terms, the agency has produced imaginative work across all channels, including TV and outdoor. For Swarovski, it combined social media with live in-store activity whereby fans directed the creation of a live window display to promote its autumn/winter collection.
The agency also supported organic food sales with a multichannel campaign that extolled the benefits of organic in a humorous way. This work for the Organic Trade Board exemplifies the lead agency approach that more clients are seeking.
Internally, a stable executive board, combined with fresh blood at all levels has served to retain a vibrant agency culture. Haygarth personnel, including chief executive Sophie Daranyi, have demonstrated thought leadership on issues ranging from retail to the Olympics.
Investment in people is correspondingly strong. The agency has an 85% staff retention rate and has been ranked in The Sunday Times' '100 Best Small Companies to Work For' list, for the past seven years.
An impressive commitment to corporate social responsibility tops off a comprehensive performance. Eyes will now turn to next year to see whether Haygarth can emulate Billington Cartmell's 2008 to 2010 hat-trick.
FOCUS ON - COINSTAR
Coinstar has more than 1700 kiosks in major supermarkets. The machines convert loose change into cash or money-off vouchers, for which it receives a fee.
In the run-up to Christmas 2011, it called on Haygarth to raise awareness of the service and increase use. Haygarth devised the Coinstar Christmas Bonus promotion, which offered a one in 10 chance of a user doubling their money over a one-month campaign. A national press campaign and point-of-sale drive supported the push. A unique code on receipts drove customers to a promotional microsite where they could find out whether they had won. The campaign returned a 5.2% increase in transactions, with an incremental sales value of £1.4m.