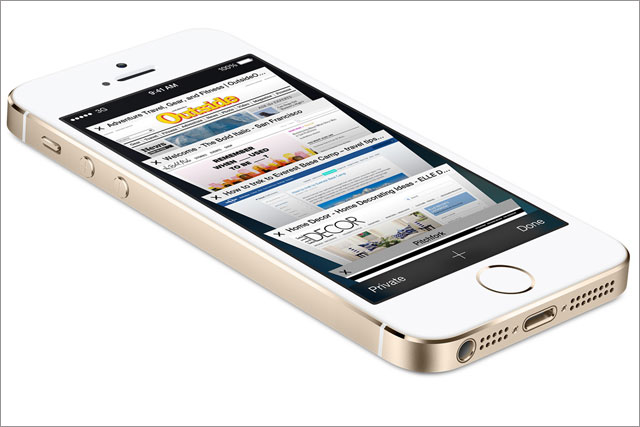 However, the positioning and pricing of the 5C has been met with bemusement from some quarters. At £469 without a contract, the 5C is just £80 cheaper than the 5S.
James Chandler, head of mobile at Mindshare UK, questions the strategy of launching a product that is neither entirely premium nor mid-range.
He said: "The iPhone 5C mid-range price point doesn't really answer the 'China problem', creating a lower-end cheaper device for the Chinese market where Android have had huge gains."
Elsewhere, rival handset manufacturer Nokia has pilloried Apple's claims of innovation, pointing out in a cheeky ad unveiled on Twitter that its Lumia phones have long been available in an array of bright colours. "Imitation is the best form of flattery," the ads read.
Nevertheless, the launch of both products has been trumpeted by Apple and met with a high volume of fanfare by technology commentators.
Ramzi Yakob, strategist at digital agency Th_nk, admits that while the 5S will excite premium customers, there is a less obvious benefit for Apple to gain more share from the likes of manufacturers Samsung and Nokia and platforms like Android.
Yakob said: "The secret weapon is the now humble iPhone 4s. At free, on contract, it has flown under the rumour radar and may prove to be Apple's most effective way to break into the huge Chinese and other emerging markets."
The iPhone 5S comes in silver, gold or 'Space Grey' and will cost £549 for a 16GB model, £629 for a 32GB model and £709 for a 64GB model.
Innovations include an A7 chip, making it the "world's first smartphone with 64-bit desktop-class architecture for blazing fast performance"; a thin and light design; a new 8-megapixel iSight camera; and Touch ID, that allows users to unlock their phone with one touch of the home button, using fingerprint recognition technology.
Meanwhile, the iPhone 5C comes in five bright colours: blue, green, pink, yellow and white. The handset features a 4-inch Retina display, an A6 chip and an 8-megapixel iSight camera.
Chandler added: "Lots of the pre-launch predictions for the 5S and 5C were disappointingly accurate.
"I for one am always excited to see how Apple will surprise us – I remember seeing Siri for the first time, which was incredible – but it's clear that this is getting increasingly harder to do. Not only in terms of keeping new features under wraps, but also continually delivering a star-studded list of innovations with each launch."