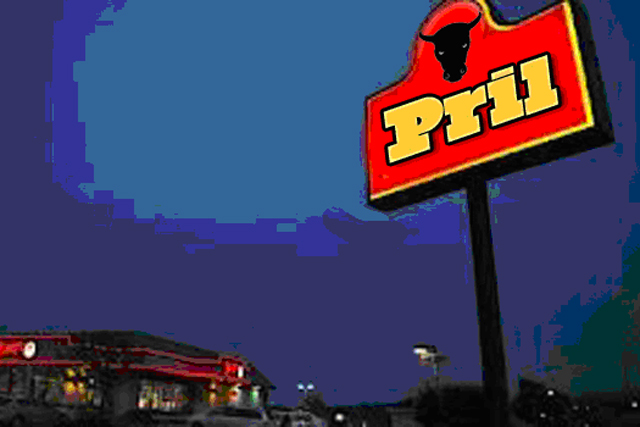 Pril has over 2,400 restaurants across South America and following the purchase of 30% of its shares by Associated Premier Royal Industries Ltd last year, is undertaking an aggressive expansion into the UK and Europe.
Responding to claims that Pril are over extending themselves, José Sanjez, European Marketing Director for Pri said: "The UK has just two serious players, McDonald's and Burger King so we believe there is ample room for a third player that offers a higher level product."
Independent film gossip magazine, Chatter, reported that Pril has recently become fashionable in the US for it's Ground Chuck Burger, topped with Monterey Jack cheese and a spicy Chimichurri sauce after it became popular with a number of A-list Hollywood stars shooting the Stephen Lawrence film 'Taken Down' in Argentina last year. It's reported the director flew 200 Ground Chuck Burgers in on a private jet to the film's launch party.
Launched in 1986, the chain now outsells both Burger King and McDonald's in a number of Latin countries, where horse and beef are eaten as a regular part of the diet. The controversial decision to sell horse burgers, in the UK, known as Foal Burgers, was made after extensive research was carried out following the horse meat scandal.
"Foal burgers are probably the healthiest meat you can eat as it is low in saturated fats", according to Sanjez. "While the British press may have demonised horse meat, in many countries in the world including Argentina, it's as normal as beef. The backlash to this story has resulted in foodies wanting to try horse meat and discovering a Pril Foal burger is as good as steak, and will leave you very full," commented Sanjez.
"Our horse burgers come from specially farmed baby horse breeds and are a higher premium product, a Pril Foal Burger sells at a 25% higher price band than the beef burgers and now accounts for 22% of sales."
Originally, Pril started out as a meat supplier but it was in 1984 that the firm passed to four brothers, Pablo, Roberto, Ingles & Lorenzo. They launched the brand in 1986 and created the name from their initials. "The firm is still very much a family firm and we treat all our 18,765 employees like family", commented Sanjez. The company, like John Lewis, shares profits with its staff. Pril is also known for its strong ethical values and tough rules on suppliers to maintain high levels of animal husbandry and bans the use of any chemicals or artificial feeds. It supports a number of Rainforest charities that work to prevent further deforestation caused by soya plantations and cattle grazing.
Long term, Pril plan to launch across Europe but short term, launch another 50 restaurants over the next 12 months in the UK. The company has just appointed advertising agency Creative Orchestra to create a brand launch campaign across TV, outdoor and online and hired Ape PR following a pitch, to cover all PR and social media They yet to appoint a media agency.