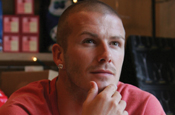 The multimillion-pound deal is the first formal clothing contract for Beckham, who has a global long-term sponsorship deal with sports brand Adidas. The three-year royalty-based agreement means the footballer receives a share of product sales on top of his annual sponsorship income.
Beckham, who left Real Madrid in July to join Los Angeles Galaxy in an estimated £125m deal over five years, will head the brand's global expansion plans. The first ad campaign to feature the star will launch next January across press and outdoor.
The deal was brokered by Simon Fuller's entertainment company, 19 Entertainment, which took on representation of David and Victoria Beckham in 2003.
In July, Beckham turned down Gillette's offer of a renewed £3m contract. He has also represented Vodafone and Police.
The star's earnings from endorsements fell by 28% for the second year running, to £11.1m last year, according to accounts filed at Companies House.