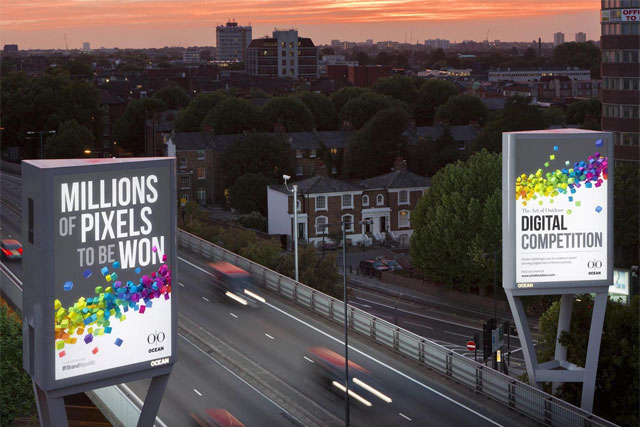 In the competition, which aims to further the growth of Dooh, Ocean Outdoor is inviting submissions from brands and the creative community, with the opportunity to win a share of a £250,000 prize pot.
In addition, winners could see their work showcased across three of Ocean's most iconic digital locations – Eat Street @ Westfield, Holland Park Roundabout and The Two Towers West.
All entries will be judged by a panel of industry experts, with the winners announced at the annual award ceremony in October. Afterwards, all entries will be showcased on a dedicated website www.artofoutdoor.com.
The competition is open until 31 August and is free to enter.
This is the second year of the competition. Previous Art of Outdoor Digital Competition winners have gone on to secure prestigious Cannes Lions Awards.
Tim Bleakley, Ocean Outdoor chief executive, said: "We very much hope that this year's competition will push the boundaries of digital out of home even further.
"One of last year's winners, the MicroLoan Foundation, has just won a Gold Cannes Lions for its Pennies for Life campaign.
"This was a ground breaking approach to fundraising which signals the convergence of new technologies and the creative synergies that presents."
Philip Smith, head of content solutions at Brand Republic Group, said: "This is the platform through which brands and agencies can truly push into new territory using evolving technologies to capture and communicate through three of Britain's best digital sites.
"Last year's entries demonstrated the possibilities and potential. I very much suspect that this year's event will take us even further into the new digital dawn."
Ocean Outdoor has a portfolio of large format digital screens, banner and super premium landmark advertising sites including: Britain's largest advertising site at London's IMax; the Two Towers East and Two Towers West, on the main arterial corridors of London's A4 and the financial district; and the Liverpool Media Wall, the UK's largest full-motion advertising site.
To enter the competition and find out more information, visit www.artofoutdoor.com.