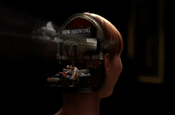 The Xbox 360 TV ad, created by McCann Erickson, shows a woman's face frozen in a half-smile as she watches a film sat on a sofa next to a man. As the shot pans behind the couple, it reveals that the back of her head is missing and has been replaced with a mini cinema.

The complainant said the ad was misleading because it failed to clarify that downloaded movies were only available for 14 days or 24 hours after 'Play' had been pressed.
The ASA ruled that the ad breached CAP (Broadcast) TV Advertising Standards Code rules 5.1 (Misleading advertising) and 5.2.3 (Qualifications) because it focused on its download function and implied that users would be able to save the movies on their Xbox 360.
Separately, the ASA also banned a regional press ad for Spreadex's financial betting site, shortsandlongs.com, after a complainant said the ad was irresponsible and glamorised gambling.
The ad, which showed a confident man sat in between two glamorous women, stated: We believe all traders deserve privileges ... which is why we offer: Free guaranteed stops".

The complainant argued that the ad was irresponsible and glamorised gambling because it referred to gamblers as traders and implied that gambling made men more attractive to women.
The ASA did not uphold the trader complaint but agreed that the body language of the three figures linked gambling with sexual success and enhanced attractiveness. It banned the ad for breaching CAP Code clauses 2.2 (Responsible advertising), 57.2, 57.4 f) and 57.4 h) (Gambling).