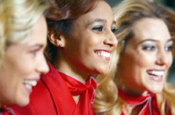 The TV ad campaign, which celebrates Virgin's 25th anniversary, features a red-suited cabin crew and pilot walking through a drab and dreary airport for the airline's first flight in 1984.
Male passers-by stare at the line-up of gorgeous air hostesses as they walk through the airport, and one man is so mesmerised that he spills food on himself.
The strapline at the end of the ad, "still red hot", is followed by two men ogling the cabin crew.

"I need to change my job", says one of the men, who resembles the ad guru Maurice Saatchi. "I need to change my ticket", the other says.
The Advertising Standards Authority has received 29 complaints that the TV and press ad campaign is sexist.

However, an ASA spokesman today confirmed that no action would be taken over the ad.
The complainants argued that the female cabin crew are being promoted as the main reason for choosing Virgin Atlantic, which they say is offensive to women, especially those working as flight attendants.

The ad was made by Rainey Kelly Campbell Roalfe/Y&R.