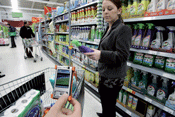 Consumers at Asda's Wembley store are able to watch matches from mobile devices. The scheme launched with last month's FA Cup quarter final between Portsmouth and Manchester United.
The promotion aims to highlight Orange's deal to be the first mobile operator to offer live coverage of every Barclays Premier league game.
Orange is looking at how to take the trial further and is likely to continue with Asda for the foreseeable future.
The deal follows research commissioned by Orange that shows supermarket shopping is a potential marriage wrecker. Nearly 30 per cent of men said they would consider ending a relationship if their partner forced them to go shopping when their team was playing on TV.
Trolleys have been used as an advertising medium for some time. However technologically-enhanced trolleys are considered to be the next step forward in point of sale. German chain Metro has been trialling trolleys that can guide the consumer to a specific area of the store and display shopping lists.