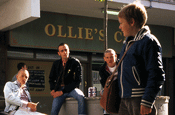 The ad, which is currently in post-production, was created by Fallon and features children from the north of England mucking around and playing tug of war in their school uniforms.

It aims to highlight the quality and low price of the clothing.

The spot breaks in the first week of August and marks a departure from Asda's previous celebrity-focused campaigns, which up until recently featured Coleen McLoughlin as the face of its women's clothing range.

The supermarket dropped McLoughlin in April, amid speculation that it planned to sign up more upmarket celebrities such as Joanna Lumley, Helen Mirren, Carla Bruni and Sienna Miller to replace her. The new ad will not feature any celebrities, however.

Fallon signed up Meadows to direct the TV commercial because of his experience of conveying an honest and realistic image of children in featfilms such as This is England, which won the 2008 Bafta for Best British Film.

Meadows' most recent commercial directorial project was the feature film Somers Town, which was funded by Eurostar and created in partnership with Mother.

The film, which recently picked up Best New British Feature Film at the Edinburgh Film Festival, tells of the friendship between two teenagers, one of whom is the son of an immigrant working on the new Eurostar terminal.