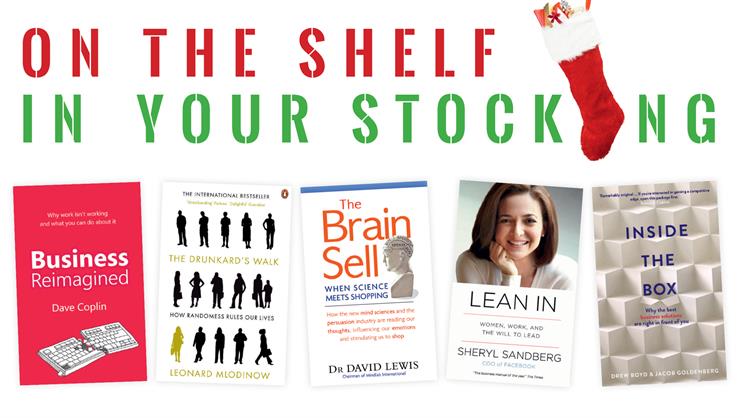 Business Reimagined: Why Work isn't Working and What You Can do about itBy Dave Coplin. Published by Harriman House.
Reviewed by Aline Keuroghlian, head of marketing, Mr & Mrs Smith
Working for a boutique hotel brand is not all about rolling in ultra-high-threadcount sheets, dipping in infinity pools and sipping dirty martinis... well, not always. Like most people working in offices, work does sometimes feel crazy. Emails pinging in constantly heap the pressure on. Mobile means you are always on call, and on a tricky day, who hasn't wondered "What is the point?"
Dave Coplin's little book is big on ideas. He asks us to consider the future of work. Coplin looks at how practices in many offices are based on old-fashioned principles. We apply a factory mentality to office work, where the emphasis is on clock-in, clock-out presenteeism, which can stifle creativity and ultimately cause serious disengagement. Innovation and creativity offer brands and businesses competitive advantages, as he shows through case studies and insights from Yammer, Netflix and Microsoft – Coplin is the aptly titled chief envisioning officer at Microsoft UK.
He suggests focusing on creativity (or creative problem-solving) rather than processes, recommending a rethink of the physical work environment. Do we have to be plugged into our desks rigidly from 9am to 5pm, or can flexible working, in a genuine culture of trust, offer workers the chance to choose where they work to best effect for the task at hand? Are open-plan offices the optimum environment for deep thought? I loved his comparison of office workers under constant observation feeling like "adrenalised antelope".
The principle is to reconsider what you are doing, and why. Just because you do something one way, is it the right way?
Take time out for a bit of advice from a self-confessed geek (he refers to Star Trek) on stepping back, rethinking how you work and trying to look forward to a future of working smarter, not harder.
The Drunkard's Walk: How Randomness Rules our Lives
By Leonard Mlodinow. Published by Penguin.

Reviewed by Matt Edwards, chief executive, WCRS

Marketers like data. In a world of subjective opinion, this is clean, hard, incontrovertible truth. Except it isn't. This brilliant book reveals the reasons and explains everything from why it makes no sense to draw lessons from successful mavericks such as Steve Jobs to how companies with no particular edge often come to dominate their rivals.
For our industry, the book might even abolish the phrases "We've shown a few people round the office" and "Let's stick it in at the end of the qual group tonight" in relation to binary decisions. Mlodinow talks in detail about the madness of following "the law of small numbers" in such tests, and shows why conclusions drawn from them will usually be wrong. Perhaps we should all have Pascal's triangle on our wall to remind us of this.
The simple statistical theory is spiced with real-world examples, including the man who broke the bank at Monte Carlo and the classic Monty Hall problem, in which the game-show host asks you to choose one of three doors. Behind one is a car, behind the other two are goats. Hall knows where the car is. Having chosen your door, he opens one of the others to reveal a goat. He now asks whether you want to switch doors or stick with your original choice. What should you do?*
This book was published about four years ago, but I've chosen it here because the subject is timeless. A rewarding read for anyone who wants to make better decisions, win more cars on game shows or understand why the regression to the mean ensures there really is such a thing as "the curse of Agency of the Year".

*Answer: you should always switch. If you do, you will win the car two times out of three. If you stick with your original door, you will win only one time in three. Tweet me @Tiggerbouncer to find out why.


The Brain Sell: When Science Meets Shopping
By Dr David Lewis. Published by Nicholas Brealey Publishing.

Reviewed by Mat Braddy, global chief marketing officer, Just Eat

I've been reading this book for weeks and only just noticed the title is a pun*. My level of stupidity makes me uniquely qualified to review this fascinating exploration of the science of neuromarketing by the "father" of the craft.
As marketing practitioners, we are often challenged by our colleagues as to why we are not focusing all our efforts on measurable ROI marketing. These sensible people ask very sensible questions. This book goes a long way to helping explain why "emotional" techniques are just as, if not more, important than click rates.
The human brain is an incredibly efficient machine, processing vast volumes of data every second. It does this largely on autopilot. Marketers use jargon like "top of mind", but what we are talking about is consumers using our services fluently without thought. On the flipside, creating complex "initiation" processes can foster a deep loyalty in customers and employees such as the Apple Genius store staff.
As a dotcom, understanding where our app forces the brain to do work can dramatically affect conversion rates – Amazon's one-click payment or Just Eat's meal reorder functions remove brain workload. After a brief neuromarketing history lesson, the book covers how understanding the brain and emotional reactions has applications not just in shop layouts but in all aspects of brand-building, interactive marketing and gamification.
It's a captivating read that's not just educational – it will help you explain the "art" of what you do in "scientific" terms – a very valuable skill. I'm off to see the chief financial officer to explain why that jetpack I bought reaches into the right hemisphere of consumers' brains.

*I am pun-blind. I also only recently noticed the rapper Flo.Rida = Florida.
Lean In: Women, Work and the Will to Lead
By Sheryl Sandberg. Published by WH Allen.

Reviewed by Vikki Chowney, head of community, TMW

You could be forgiven for having heard of Lean In, but not actually knowing what the book is about. If Sheryl Sandberg weren't chief operating officer of Facebook, would there have been such a furore? Possibly not.
There's a lot of confusion about what "leaning in" actually is, and why it's better or no different from other approaches for getting more women to the top.
As I understand it, "leaning in" simply means getting more involved. Obviously there's rather more to it besides, but that seems to be the gist. While I recognise that taking advice on how to "break through glass ceilings" may be hard to hear from a Harvard graduate worth $400m, I do feel that the message of Sandberg's book has suffered because of her somewhat controversial profile.
The idea of "leaning in" stands up to a point. I support the "fake it till you feel it" approach, plus the encouragement to get involved – but at the same time, I also subscribe to BBH legend Cindy Gallop's approach. There are similarities in their views, largely centring on the need to put yourself forward and fight inner fear of failing, but Gallop suggests that we can redesign working models rather than align with them.
Reading between the lines, Lean In seems to suggest that you can play by the rules of the boys' club to get to a senior level and then effect change from within. Is this the wrong thing to do? I don't know, but do we even need to decide? The whole "you have to be in it to win it" mentality resonates with me, and that seems to be the most important thing.



Inside the Box: Why the Best Business Innovations are Right in Front of You
By Drew Boyd and Jacob Goldenberg. Published by Profile Books.

Reviewed by Sarah Jane Blackman, strategic innovation partner, Proximity London

"A creative act is not an extraordinary event… creativity is a skill to be mastered by anyone." So no more staring hopefully at a blank sheet of paper, then, as Boyd and Goldenberg debunk some creative myths to reveal the techniques for "innovation on demand".
It's always been in the interests of those who style themselves as "creatives" to preserve the mystique of what they do. Yet, as the pressure for productive innovation grows, creatives often seem to fall back on a few tried-and-tested patterns, or sets of creative reflexes that have served them well in the past – just ask Steve Jobs, The Beatles or Leonardo da Vinci.
Extensive cognitive research has led the authors to the conclusion that there is a collective method to all this individual madness. They show that all creative solutions are built on just five "cognitive templates". So, if you want to be creative, all you need is a working knowledge of these templates, and the willingness to exercise your innovation muscles through plenty of practice. They dub this process Systemized Inventive Thinking (SIT) and it has much to recommend it.
Although you might question the originality of some of their innovation techniques, or see their definition of creativity as a little narrow, SIT has an admirable simplicity. What is refreshing and courageous about Inside the Box is the way it challenges some of the most unproductive and fallacious elements of the "innovation" industry, such as "brainstorming" and "outside the box" thinking.
Even before I had finished this book, I found myself enthusiastically applying the methods to think about familiar problems in completely new ways.