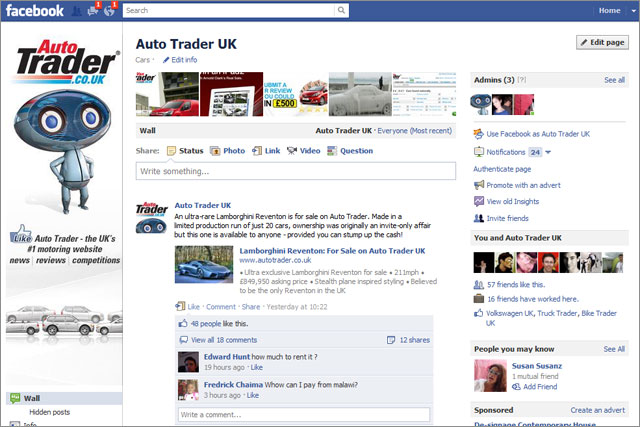 Car fans who have activated Timeline on their Facebook account will be able to use the "want" social plug-in on the Auto Trader site to show their friends the car makes, models and new cars they would like to own.

The Auto Trader app will share a person's wants with their friends through the Facebook news feed and ticker, although users are able to control who the app shares information with.

Depending on the performance of the "want" button Auto Trader may consider adding "own" or "used to own" plug-ins in the future.

Facebook previewed Timeline at F8 in September when it unveiled its new wave of social apps from partners such as Spotify and The Guardian. Those apps were available to users with the old Facebook profile, but all new apps will only be available with Timeline.

Ian MacDonald, head of consumer marketing at Auto Trader, said: "The social web has made the traditional 'peer opinion' that influences peoples' buying behaviour more important than ever.

"Auto Trader's Facebook integration enables people to quickly canvas the opinion of their friends, discover new cars, and make their Timelines even more reflective of their lives and ambitions.

"We will have a real-time indication of how in-demand a particular car is via the volume of people indicating that they 'want' that car. We're delighted to be making buying new cars a more social activity via our New Cars website."

Auto Trader had already integrated Facebook into its site by allowing sellers' cars to be seen in the Facebook Marketplace.
Other apps that launched today (19 January) include a fashion app from social shopping site Lyst and a podcast and radio mix app from Mixcloud.
Follow Maisie McCabe on Twitter @MaisieMcCabe