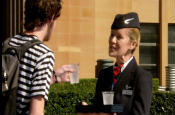 The airline will work with TradeDoubler on an exclusive basis across Europe and Africa, with the account being shared with LinkShare in the UK. LinkShare will manage the account across the US, South America and Asia Pacific regions.

The two agencies will work closely with British Airways' digital media agency Agency.com, which has handled its affiliate marketing projects for the last two years.
'Affiliate marketing is a fundamental part of our online strategy,' said Eve Ireland, online partnerships manager at British Airways.

Earlier this month, British Airways also kicked off a pitch for its consolidated digital advertising business across continental Europe and Africa.
The airline has approached London-based network agencies with a brief spanning digital strategy, website build and online advertising. Agency.com is unaffected by the process.