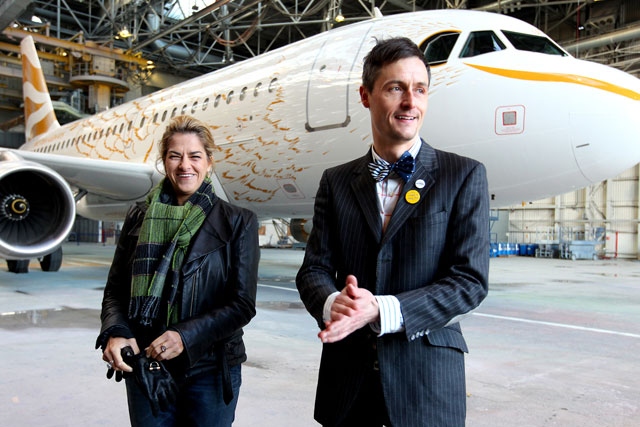 BA's Great Britons Programme has signed up British celebrities Heston Blumenthal, Richard E Grant and Tracey Emin to act as mentors in a series of projects.
The Dove has been designed by Pascal Anson with mentoring from Emin and has been painted in white and gold across nine A319 aircraft. It can be seen from tomorrow on routes to and from Europe for 12 months.
Anson's design uses the plane's cockpit for the dove's beak, the fuselage and wings for the bird's main body and the tailfin for the tail feathers.
The two remaining Great Britons projects also launch today – a short film called 'Boy', written by Prasanna Puwanarajah, will be shown on the aircraft, while a menu created by Michelin star chef Simon Hulstone will be served to passengers.
BA has also launched a pop-up venue called Flight BA2012 in Shoreditch on selected weekdays between 4-17 April.
It features an art gallery, a cinema and a restaurant that showcases work from the Great Britons project.
Follow Loulla-Mae Eleftheriou-Smith on Twitter @LoullaMae_ES