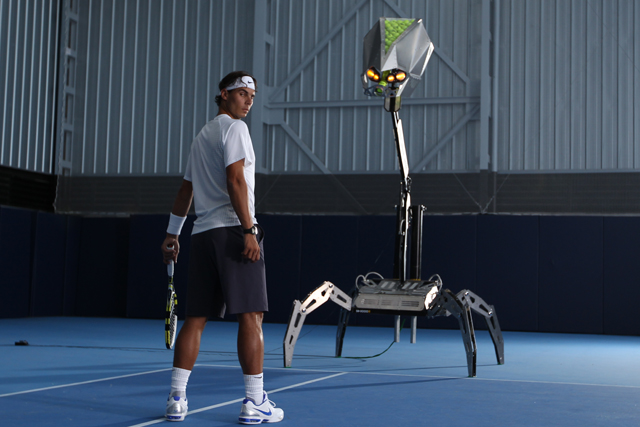 Legal drinking age Facebook users will get the opportunity to "ace" Nadal in an online virtual reality video game, 'Ace Rafa', hosted on its Champions Drink Responsibly platform.
Players who win the game, which uses the RoboServ 3000, a state-of-the-art, 12-foot-tall, tennis-serving robot, will go into a free prize draw to win a spot in the Grand Final. The finalists will get to meet Nadal face-to-face in Mallorca, Spain, in 2012.
The imagery in the game was shot on location in Nadal's hometown of Manacor in Mallorca, where the tennis champion also trains.
'Ace Rafa' features a real version of Rafael Nadal, rather than a computer-generated version, and the game is brought to life as he reacts to each serve.
The activity is the latest promotion in the Bacardi 'Champions Drink Responsibly' global campaign. The Bacardi social responsibility campaign, devised by 23Red, highlights the message that 'Everyone Knows Where the Line Is', when it comes to drinking responsibly.
Séamus McBride, Bacardi president and chief executive, said: 'The 'Ace Rafa' promotion is all about connecting with consumers in a dynamic and engaging way to reinforce the important message of responsible drinking.'
The 'Champions Drink Responsibly' campaign was first introduced in April 2008 featuring seven-time Formula 1 World Champion Michael Schumacher, with the strapline "drinking and driving don't mix."