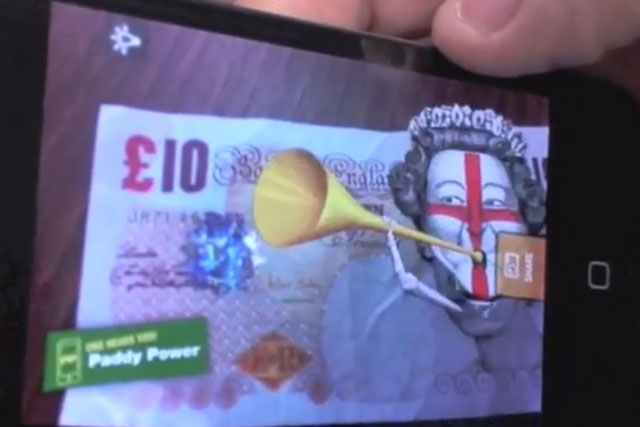 The campaign, launched in June to coincide with Euro 2012, was created by Crispin Porter, and used Blippar technology to bring the Queen's face to life on £10 notes and voice her opinions on football matches.
A Bank of England spokeswoman confirmed to Marketing that it has asked Paddy Power to withdraw the campaign, because permission for the images of the Queen used in the campaign was not sought, and therefore broke the law under the Forgery and Counterfeiting Act 1981.
Under section 18(1) of the Act it is a criminal offence for any person, without the prior consent in writing of the Bank of England, to reproduce on any substance whatsoever, and whether or not on the correct scale, any Bank of England banknote or any part of a Bank of England banknote.
A Paddy Power spokesperson said in a statement that the bookmaker was "not sure" it had broken the law, but "given the absence of decent footie this month, we'll happily retire the Queen from punditry duties, for now."
When it launched the campaign, Paddy Power said: "It might put us at risk of getting thrown in the Tower of London, but as we know she likes a flutter, we're sure Her Majesty will see the funny side."
Last week, Paddy Power, known for its controversial advertising, enlisted boxer Dereck Chisora to wear its green and white Y-fronts at the weigh-in for his fight against David Haye on Saturday (14 July).