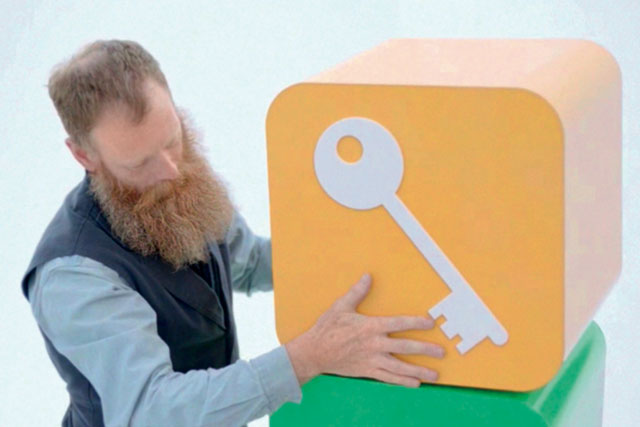 Given the turmoil of recent years, the modern equivalent must be selling financial services to, well, just about anyone. This makes delivering a successful ad campaign for one of the major banks something of a Herculean challenge, albeit one with big upsides if you get it right. After all, we have to put what little remains of our hard-earned cash somewhere; and in the land of the scoundrel, the least untrustworthy is king.
Against this backdrop, what are we to make of the current Barclays campaign? The latest iteration is for its 'features store'. The ad's 'big boxes' idea is a simple demonstration of a potentially confusing product offer (tailored current accounts), with a memorable visual motif. And though Barclays has dropped many of the stylistic mnemonics of previous executions, Stephen Merchant's distinctive voiceover maintains a connection with the past.
In a sector where creativity is often at a premium, it works well. In the face of shrinking ad budgets, campaign equities such as Merchant can be worth their weight in collateralised debt obligations, even for advertisers with deep pockets. That is probably why Barclays was so frustrated when Merchant announced he was quitting. Here's a hypothesis, however: might this be a blessing in disguise?
The relationship we have with banks is dependent on their trustworthiness: it's our money, and we expect them to be responsible with it. Even allowing for acceptable risk, financial-services brands have lost that currency. It is no longer enough to rely on memorable dramatisation of relevant products and services. Everything banks do must be geared to regaining trust.
This is no small task, even if you ignore own-goals such as the 'Bob Diamond Show'. The attitude a bank is seen to have toward customers makes an important contribution.
Which brings us back to Merchant. He comes with 'Gervaisian' baggage. There was a time (probably 1992) when clever, knowing irony was possibly right for financial services. Now? Perhaps not. His delivery is, arguably, softer here, but what do we remember? Does this advertising get subsumed in a body of work that finds dark humour in others' misfortune? Is this the voice of Barclays?
Apologetic and contrite might be asking too much. Yet surely we want considered and professional, or personal and helpful, or even positive and optimistic (we can dream).
Clever and ironic, let alone smug and patronising, are probably not the traits of people we want to do business with, no matter how good their products. So maybe a clean slate is no bad thing. If nothing else, it shows how one small thing has the potential to undermine otherwise good work.
Brand strategy verdict: 7 out of 10
A fine example of simple, memorable dramatisation making sense of a potentially confusing product, but Stephen Merchant is probably not the right voice for a bank in 2012.
Adwatch (Aug 22) Top 20 recall: Barclays
Latest
Aug-15
Brand
Agency/TV Buyer
Recall
rank
%
1
(–)
Wonga.com
Albion London/PHD
71
2
-2
Churchill
WCRS/MediaCom
60
3
-3
Virgin Media
Bartle Bogle
Hegarty/Fifty6
55
4=
(–)
Aldi
McCann Erickson Manchester/
Universal McCann Manchester
53
4=
-6
Argos
CHI&Partners/Mindshare
53
6
(–)
Confused.com
Wordley Production,
Hornet Inc/PHD
42
7
-17
Nikon
Jung von Matt,
Doner/MediaCom
39
8
(–)
National Lottery
EuroMillions
Abbott Mead Vickers
BBDO/OMD UK
38
9
(–)
Volkswagen Golf
Adam & Eve
DDB/MediaCom
37
10
(–)
British Gas
CHI&Partners/Carat
36
11
(–)
Sky
WCRS/MediaCom
35
12
(–)
Kellogg's
Crunchy Nut
Leo Burnett/Carat
34
13
(–)
Cushelle
Fallon London/Carat
32
14=
(–)
McDonald's
Leo Burnett/OMD UK
31
14=
(12=)
DFS
Krow/MediaCom
31
16=
(–)
Sensodyne
Grey London/
MediaCom
30
16=
(–)
Barclays
Bartle Bogle
Hegarty/Maxus
30
18=
(–)
Asda
Saatchi &
Saatchi/Carat
29
18=
(–)
Gillette
Fusion
BBDO New York/
MediaVest
29
20
(–)
Samsung
Galaxy SIII
Cheil Worldwide/
Starcom
27