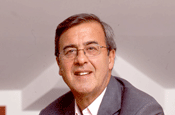 The network, fronted by Lord David Puttnam and Sir Chris Powell, aims to provide high growth companies from the TV production, advertising and digital media sectors with personalised mentoring from the UK's top industry executives.

Also amongst the network's 20 mentors will be Andrew Zein, the managing director of Tiger Aspect, Alex Graham, the chief executive of Wall to Wall and Howard Kiedaisch, the chief executive of Arts Alliance Media.

Meanwhile Grant Thornton, the IPA and Pact will act as project delivery partners for the network, which is seeking to provide fledgling companies with the business development support needed to grow them into future market leaders.

Powell, the NESTA chairman, said: "We need to give the creative industry sector its best chance of competing in a crowded global market. One of the ways to address this is to give creative businesses a tailored approach to business support which captures the underlying characteristics of the creative industries."

Puttnam added: "Now, more than ever, the creative industries need our help and support. Our ideas are fast becoming the UK's most valuable asset. We need to protect them, nurture their development and drive them forward. The high calibre of mentors participating serves to reflect the importance of the scheme."