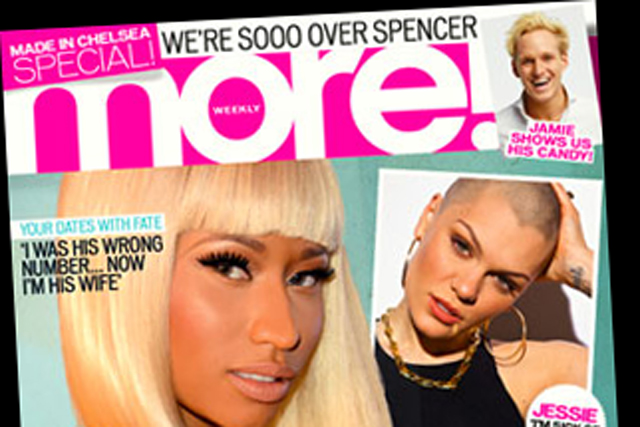 More is a glossy magazine aimed at 18-24 year old women. Its mission statement from editor Chantelle Horton is to be the "trusted, stylish and influential brand for modern 20-something women."
The title has suffered from dwindling circulation in the economic downturn, with weekly circulation falling 39.4% year on year to below 100,000 (92,459), according to ABC figures for July to December 2012.
Tomorrow's edition (23 April) will be the final issue of More, priced at £1.50. A spokesperson for the publisher has confirmed 22 editorial staff are now under consultation. All commercial roles associated with the title are not believed to be involved in the consultation period.
A decade ago, More's circulation was nearly three times the current figure, at 259,550 for the second half of 2003 according to ABC figures.
Paul Keenan, the chief executive of Bauer Media, said: "The prospect of continuing challenging economic conditions has led us to reach this decision as the title has become unviable.
"I greatly appreciate the outstanding efforts of [More editor] Chantelle Horton and her talented team and I'm sure that everyone who has worked on More over the years – many of whom have gone on to build fantastic careers – will be sorry to hear this news.
"More's sense of fun, cheekiness and irreverence will be missed."
Circulation tumbled from 260,331 in 2007 to slip below 200,000 a week after Bauer took over the magazine through its acquisition of Emap's consumer magazine division.
Bauer's predecessor Emap launched More in 1988. Bauer Media acquired Emap's consumer magazine division in 2007.
The magazine was revamped last summer, after reader research prompted a move away from celebrity content in favour of more features, career advice and travel content on destinations readers were likely to visit.
Fashion photos focused on "real" people instead of models and other new sections included finance tips and food.