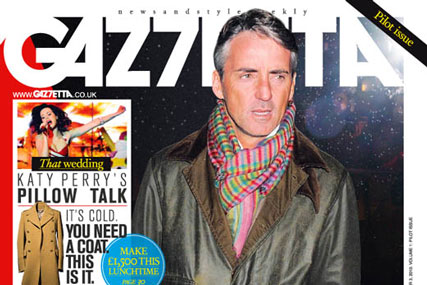 Bauer said that the magazine, which targets 30-something ABC1 men and features Manchester City manager Roberto Mancini on the cover, is "split between 50% news and 50% style and experience".

Coverlines for the magazine, which is edited by Andrew Pemberton, include "That Wedding, Katy Perry's Pillow Talk" and "Make £1,500 this lunchtime".
Over 500,000 copies of the 60-page sampler will be circulated through issues of Grazia as well as through retailers such as Harrods, Reiss, Top Man, matches.com and my-wardrobe.com.
The pilot issue is also being handed out with selected issues of free newspapers City AM and Metro.
The sampler issue has been supported by premium advertisers including BMW, Moschino, Harrods, Calvin Klein, Tag Heuer and Galliano.
Editorial includes a six-page feature on the Saatchi brothers, called 'The Real Mad Men', which includes photographs spanning the careers of the admen.
The title also features news pages on recent Paris protests against politician's use of public money, reports that Daniel Craig may quit Bond, rumours that Apple is to buy Facebook and Boris Johnson's latest domestic issues.
In addition there are interviews with Marco Pierre White and Edinburgh Festival winner Russell Kane who talks about the difficult relationship he had with his late father, tied to the coverline: 'I needed Dad to die to become a success'.
Gaz7etta also has a back page column titled 'What I Learnt'. A spokeswoman for Bauer said the page is "a space dedicated to men of a certain age where they can pass on advice from genuine experience." The pilot issue features a Q&A with Ian Fraser Kilmister (known as 'Lemmy') of Motörhead.

Bauer has also created a website for the magazine, www.gaz7etta.co.uk, which employs the strapline: 'For the sharpest guys in the room'.

Paul Keenan, Bauer Media's chief executive, said the company was seeking to create "a new brand with a strong magazine at its core".
Ella Dolphin, publisher of Grazia and Gaz7etta, said: "We believe Gaz7etta has the potential to give successful men something different: a news digest that doesn't just edit the news but gives them the inside story on what's really happening.
"These are stylish men who demand quality in their life - whether it's the car they drive, the technology they use, the music they listen to, the sport they play or the clothes they wear. Gaz7etta gives them the latest on all these things. It's an ambitious magazine and that's why we are testing it first."